Impressive Wins For Jamaican Boxers Ricardo 'Big 12' Brown And 'The Hitman' Russell
2 min read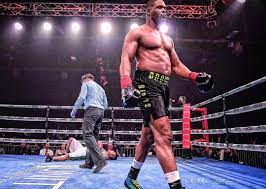 Ricardo Brown is emerging a prospect who could shake up the boxing world. He is building an international fan base thanks to his spectacular knockouts
Two talented Jamaican boxers Ricardo 'Big 12' Brown and Kemahl 'The Hitman' Russell were involved in a successful event that saw them secure victories in the ring.
Kemahl 'The Hitman' Russell scored a technical knockout in the fourth round. This was an impressive win because the super middleweight fighter is coming is coming from a five-year layoff. The Jamaican's victory came against Marcos Cornejo of Argentina. This eight-round fight happened on Saturday.
Fellow Jamaican Ricardo 'Big 12' Brown also went home with a brutal first-round knockout win against Jesus Angel Nerio of Mexico. This win means that the 6'7 tall heavyweight has extended his record to 7-0.
The two fighters fought in the Pickering Casino Resort, in Ontario, Canada. This event was promoted by the United Boxing Promotions. The two Jamaicans were placed in the preliminary bouts.
The 34-year-old Russell now boasts of an impressive professional record of 14-1. He beat Michi Munoz Zavala in a TKO win in his last fight on March 16, 2018. He was defending his NABF junior middleweight title. He was forced to take a break from boxing in order to recover from an eye surgery. He recent return comes after he was cleared to compete again.
Russell said that he is happy to return to the sport he loves in a victorious fashion. He put in a good performance and showed that he still possesses his magic boxing skills. However, he told journalists that he was disappointed that he didn't score a dramatic finish.
On the other hand, Ricardo Brown is emerging a prospect who could shake up the boxing world. He is building an international fan base thanks to his spectacular knockouts.