Jamaica Under 20 Beat Antigua and Barbuda to Set Themselves up for the Round of 16 in the Championships
1 min read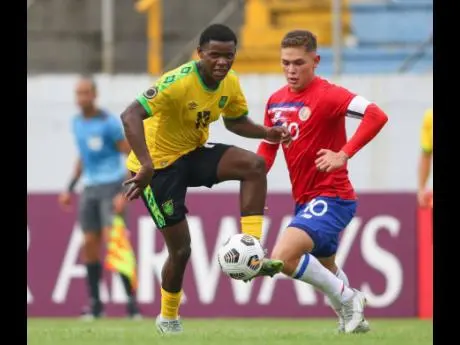 The Youngsters Showed Great Maturity to Hold on to Their Lead
Jamaica won 2-0 against Antigua and Barbuda in a duel, being the game in which Antigua and Barbuda lost the fewest goals, the Jamaicans remain as third, which qualifies the Young Reggae Boyz for the Round of 16
Jamaica's first goal was scored by Zion Scarlett in the 41st minute. The young Jamaicans added to their lead with an 81st minute goal from Jahmari Clarke. Jahmari Clarke scored the second from the penalty spot. the referee awarded the penalty after substitute Tyler Roberts was brought down in the area by Antigua defender Dajun Barthley. Barthley was later ejected from the game by referee Rubiel Vázquez after reviewing the VAR system.
Antigua and Barbuda tried to fight back but Jamaica wasn't in a mood to give away their lead. The youngsters showed great maturity to hold on the first goal and even add a second one.
Jamaica U-20 Reggae Boyz coach Marcel Gayle had predicted that his team would produce a great performance in this match. The Jamaicans will now face Haiti on Sunday in Tegucigalpa.
About Author