Jamaicans Beckford and Brett Score in USL Midweek Games
2 min read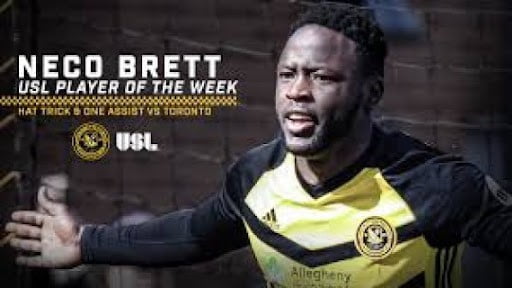 TAMPA BAY, United States — Jamaican pair Deshane Beckford and Neco Brett scored in the United Soccer League in midweek games for their clubs.
Brett helped Birmingham Legion FC secure a play-off win against Austin Bold; the game ended with a 3-1 score line. On the other hand, Beckford scored for Colorado Springs Switchbacks in a game where his team lost 4-2; this was Beckford's fifth goal of the season. The first game was held in BBVA Field, while the second one was played at Southwest University Park.
Meanwhile, Legion FC achieved their wish of securing a home play-off game in Birmingham, Alabama.
Birmingham Legion FC's defender Alex Crognale opened the scoring with a headed goal in the first half, Brett then followed up with is well-worked goal. Next, was a breakaway strike from Bruno Lapa.
Brett and JJ Williams combined for a quick one-two after being found by Jaden Servania in the 75th minute. Brett was constantly causing problems around the box, he finished like a true goal poacher after sneaking behind the Austin Bold defenders. Brett now stands out as Birmingham's highest scorer this season.
Brett has now scored 17 times this season, making him one of the league's top marksmen together with Kyle Murphy of Memphis 901 FC and Cameron Lancaster of Louisville City FC.
In the other match in the USL Championship, the Switchbacks, broke the deadlock after Beckford scored a sublime goal during a time when the teams were tied in a 1-1 draw. He placed his goal into the right corner after receiving a defense-splitting pass from Andre Lewis. Beckford created a turnover high up the pitch before dribbling past a defender in the penalty area and finishing. The game happened in El Paso, Texas.
Switchbacks went ahead after Hadji Barry opened the scoring against Locomotive in the fifth minute. This is his 25th goal of the season, making him the joint record-holder for the most goals in one season in the USL Championship. Midway through the first half, Locomotive equalized with a Ricardo Zacarias goal that was created from a set piece.
Locomotive's Macauley King scored again from a 61st minute set piece. This was followed up by a goal from Luis Solignac after he came in as a second half substitute. Solignac gave Locomotive the lead after converting a cross four minutes before the game ended. The goal scoring was finished by Diego Lunch who converted his chance in stoppage time.
Deshane Beckford is currently registered as a Montego Bay United player who has been loaned out to Colorado Springs Switchbacks. In 2019, he started playing for the Jamaican U-23s where he played three matches with a total of three goals. On the other hand, Neco Jeborie Brett is a 29-year-old who has been playing as a striker for Birmingham Legion FC since December 17, 2019.
About Author