The Sunshine Girls defeat the England Roses in a consolation match to even the series at 1-2
2 min read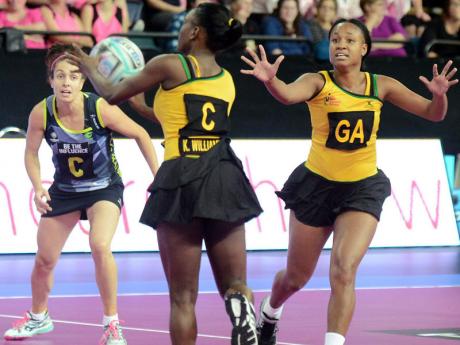 The Jamaican Sunshine Girls gained a consolation win against England to end the Vitality Netball 'Roses Reunited' Series on a happy note. The Girls will have some good to take forward in their continued training for next year's Tournament.
The Jamaicans won 63-53 at Motorpoint Arena in Nottingham after losing the first two games 47-66 and 45-55 of the three-match series, condemning them to their 1st series loss to the Roses since 2013.
Jhaniele Fowler, the captain and ace shooter, was in fine form in the circle, scoring 57 goals on 60 attempts, while goal attack Shanice Beckford contributed to the win by scoring five goals on eight attempts.
Georgina Fisher spearheaded a relatively fresh England assault line from the start, with Helen Housby (15 goals from 17 attempts) and Eleanor Cardwell (14 goals from 16 attempts) also contributing, albeit in a losing cause, on this occasion.
Fowler praised her squad for coming back from two poor performances that cost them the championship. She went on to say that the first two games were quite difficult. The team had a lot of downtrends and mistakes because they did not take care of the ball as well as they should have.
In a post-game interview with journalists, she said that a number of things played a part in them not getting the outcome that they wanted.
The large crowd that had gathered at the Motorpoint Arena in expectation of the Roses victory was greeted to another entertaining match when the Sunshine Girls, rated fourth, faced up against their number three-ranked rivals.
Consequently, the Jamaicans got out to a much better start this time, especially in the middle of the court, where they performed their drop passes to Fowler, who showed why she is regarded as one of, if not the greatest goal scorer on the planet. On the tight tackle, the Sunshine Girls' explosive Kadie-Ann Dehaney and Shamera Sterling forced a number of penalties by the Roses, giving them a three-goal advantage at 14-11 at the half.
Though Jess Thirlby, England's Coach went back to her more seasoned offensive combo Jo Harten and Housby, which momentarily tied the game at 16-16, Sunshine Girls were resolved not to let things slide through their fingers like they had in the prior two games.
The Sunshine Girls quickly stormed to an eight-goal advantage, 32-24, at halftime, riding on the momentum created by the defense, which restricted the Roses' strong offense. For the third quarter, things continued essentially the same, resulting in a narrow victory for the Roses, who battled down to match the 16 goals scored by Sunshine Girls in15 minutes, reducing a 12-goal advantage to an eight-goal loss.
The Jamaicans' rhythm persisted in the fourth quarter, as they maintained their composure to capitalize on every error, depriving the Roses of any chance of recovery.