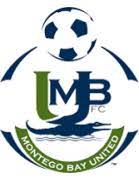 Montego Bay United Football Club
Montego Bay Football Club, also known as MoBay FC, is one of the most prominent and well-respected football clubs in Jamaica. Founded in the mid-20th century, MoBay FC has been a fixture of Jamaican football for many years, and has a rich and storied history.
Located in the vibrant city of Montego Bay, MoBay FC is known for its attacking style of play, with quick transitions, incisive passing, and clinical finishing at the heart of the club's success. The club's players are skilled, creative, and dynamic, and are always looking for new ways to attack and score goals. Whether it's through lightning-fast counter-attacks, pinpoint crosses, or powerful shots, MoBay FC is always a threat to score.
Off the pitch, MoBay FC is equally dedicated to excellence. The club is actively involved in a variety of community initiatives, including health and wellness programs, cultural events, and educational initiatives. Through these efforts, MoBay FC has become a trusted and respected member of the community, and has earned a reputation as a responsible and engaged organization.
MoBay FC's home ground, the Montego Bay Sports Complex, is one of the most modern and well-equipped football venues in Jamaica. With its state-of-the-art facilities and passionate fan base, the complex is a true fortress for the club, and one of the toughest venues for visiting teams to play. The complex is also used to host a variety of other sporting and cultural events, making it a hub of community activity and a source of pride for the people of Montego Bay.
Over the years, MoBay FC has won numerous national championships, including the Jamaica National Premier League and the Red Stripe Premier League. The club has also been a regular participant in regional and international competitions, and has faced some of the top teams from across the Caribbean and beyond. Despite these challenges, MoBay FC has continued to thrive, thanks in part to its talented players, dedicated fans, and strong community ties.
Whether you're a fan of football, sports, or community development, Montego Bay Football Club is a club that deserves your attention. With its talented players, exciting style of play, and commitment to youth development and community involvement, MoBay FC is a shining example of what a football club can be. So if you're ever in Montego Bay, Jamaica, be sure to catch a match at the Montego Bay Sports Complex and experience the excitement and passion of Montego Bay Football Club.
Nationality

Jamaica

Current Team

Past Teams

Birthday

July 27, 2021

Age

2
Fixtures


(9)
Jamaica Premier League
JPL 2023 -2024
Breds Sports Park, Treasaure Beach
Results


(8)
Jamaica Premier League
JPL 2023 -2024

(7)
Jamaica Premier League
JPL 2023 -2024


(6)
Jamaica Premier League
JPL 2023 -2024


(5)
Jamaica Premier League
JPL 2023 -2024


(4)
Jamaica Premier League
JPL 2023 -2024

(3)
Jamaica Premier League
JPL 2023 -2024


(2)
Jamaica Premier League
JPL 2023 -2024


(1)
Jamaica Premier League
JPL 2023 -2024

(26)
Jamaica Premier League
JPL 2022 - 2023


(25)
Jamaica Premier League
JPL 2022 - 2023
Edward Seaga Sports Complex

(24)
Jamaica Premier League
JPL 2022 - 2023
Catherine Hall Sports Complex


(23)
Jamaica Premier League
JPL 2022 - 2023


(22)
Jamaica Premier League
JPL 2022 - 2023

(21)
Jamaica Premier League
JPL 2022 - 2023
Catherine Hall Sports Complex

(20)
Jamaica Premier League
JPL 2022 - 2023


(19)
Jamaica Premier League
JPL 2022 - 2023


(18)
Jamaica Premier League
JPL 2022 - 2023
Anthony Spaulding Sports Complex


(17)
Jamaica Premier League
JPL 2022 - 2023
Effortville Community Center


(16)
Jamaica Premier League
JPL 2022 - 2023


(15)
Jamaica Premier League
JPL 2022 - 2023


(14)
Jamaica Premier League
JPL 2022 - 2023

(13)
Jamaica Premier League
JPL 2022 - 2023


(12)
Jamaica Premier League
JPL 2022 - 2023

(11)
Jamaica Premier League
JPL 2022 - 2023


(10)
Jamaica Premier League
JPL 2022 - 2023


(9)
Jamaica Premier League
JPL 2022 - 2023

(8)
Jamaica Premier League
JPL 2022 - 2023

(7)
Jamaica Premier League
JPL 2022 - 2023


(6)
Jamaica Premier League
JPL 2022 - 2023
Wembley Center of Excellence


(4)
Jamaica Premier League
JPL 2022 - 2023


(5)
Jamaica Premier League
JPL 2022 - 2023


(3)
Jamaica Premier League
JPL 2022 - 2023


(2)
Jamaica Premier League
JPL 2022 - 2023


(1)
Jamaica Premier League
JPL 2022 - 2023


(22)
Jamaica Premier League
JPL 2022

(21)
Jamaica Premier League
JPL 2022
Anthony Spaulding Sports Complex

(18)
Jamaica Premier League
JPL 2022


(20)
Jamaica Premier League
JPL 2022


(19)
Jamaica Premier League
JPL 2022
Anthony Spaulding Sports Complex


(17)
Jamaica Premier League
JPL 2022
Montego Bay Sports Complex


(16)
Jamaica Premier League
JPL 2022

(15)
Jamaica Premier League
JPL 2022


(14)
Jamaica Premier League
JPL 2022
Anthony Spaulding Sports Complex


(13)
Jamaica Premier League
JPL 2022


(12)
Jamaica Premier League
JPL 2022


(11)
Jamaica Premier League
JPL 2022

(10)
Jamaica Premier League
JPL 2022


(9)
Jamaica Premier League
JPL 2022


(8)
Jamaica Premier League
JPL 2022
UWI JFF Captain Horace Burrell Centre of Excellence

(7)
Jamaica Premier League
JPL 2022


(6)
Jamaica Premier League
JPL 2022
UWI JFF Captain Horace Burrell Centre of Excellence


(5)
Jamaica Premier League
JPL 2022
UWI JFF Captain Horace Burrell Centre of Excellence

(4)
Jamaica Premier League
JPL 2022
UWI JFF Captain Horace Burrell Centre of Excellence


(3)
Jamaica Premier League
JPL 2022
UWI JFF Captain Horace Burrell Centre of Excellence


(2)
Jamaica Premier League
JPL 2022
UWI JFF Captain Horace Burrell Centre of Excellence


(1)
Jamaica Premier League
JPL 2022
UWI JFF Captain Horace Burrell Centre of Excellence