Bunny' Shaw Signs Endorsement Deal With Power Ade
2 min read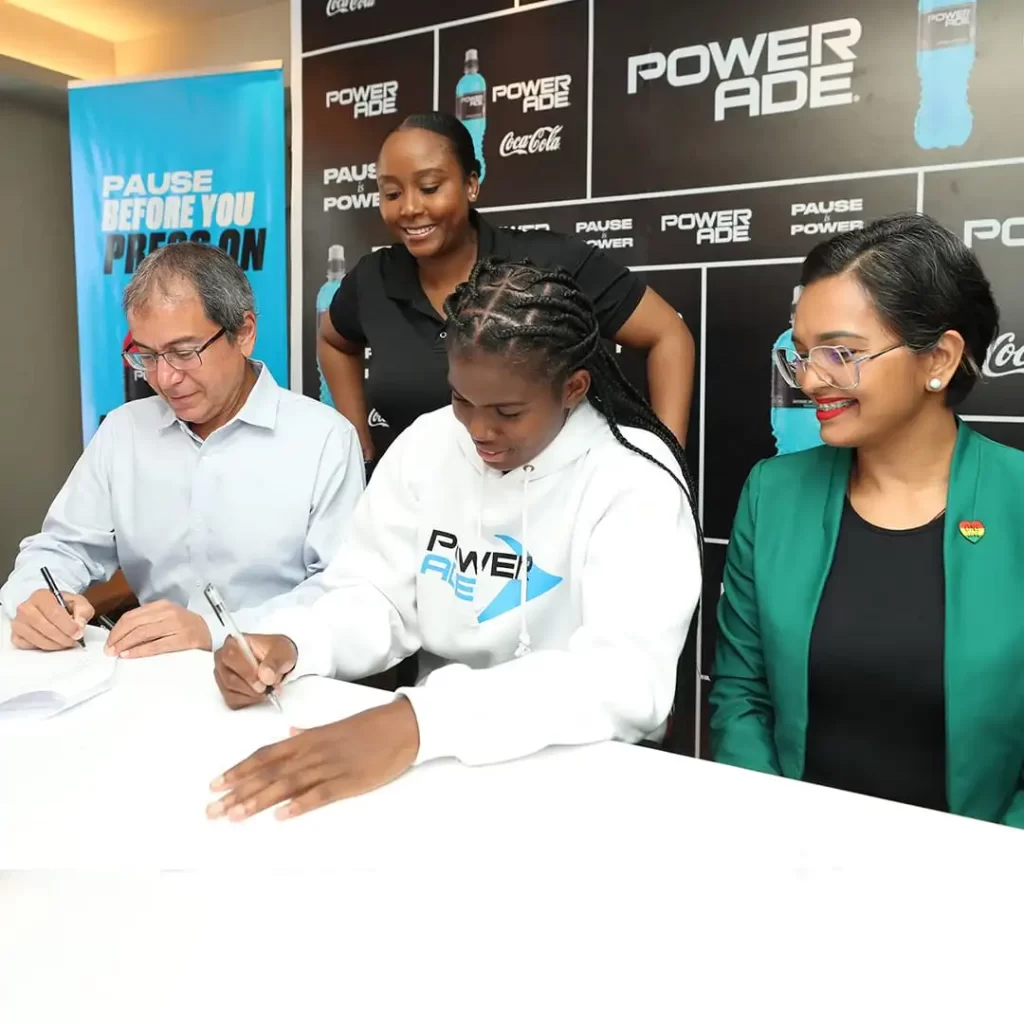 Shaw said that she hopes to use her partnership with Power Ade to inspire young girls and boys
Khadija "Bunny" Shaw is the new brand ambassador of Power Ade after signing a two-year deal. Powerade is a popular sports drink that is owned by Coca Cola. The Reggae Girlz star striker is enjoying the best time of her career after being recently nominated Ballon d'Or award.
The partnership will expand beyond the perimeters of sports and Powerade. This is according to Andrew Mahfood, the CEO of Wisynco Group Limited. He made this announcement while speaking at the ROK Hotel in Kingston.
Shaw thanked Brazilian legend for inspiring her to be a successful footballer. Marta is widely regarded as the best female footballer of all time. She said that she grew up hoping to emulate Marta's playing style and her professionalism. She was lucky to play against her idol when Jamaica clashed with Brazil in the recent Women's World Cup.
Shaw said that she hopes to use her partnership with Power Ade to inspire young girls and boys.
Mahfood said that Shaw will be the face of the company in everything she's involved in. He revealed that they will be working with her in programs that improve her community. They will be using a structured and organized plan. Mahfood said that they chose Shaw because she is greatest player from the Caribbean region.
Shaw is motivated about giving back to her community. She is from the Crescent District, Spanish Town. She said that this partnership will help her in her evolution as a player and as a human being.
Shaw has 55 goals from 39 games for Jamaica; making her the all-time top scorer for the men's and women's teams. She is regarded as one of the best female footballers following a record 32 goals for Manchester City. She is the first Jamaican to be nominated for football's most prestigious individual award— the Ballon d'Or.
Meanwhile Andrew Mahfood, revealed that they have been following up on the Jamaican star since her high school days.
About Author