Countdown to Glory: Second Leg of Tier II Football Semi-Finals Beckons
3 min read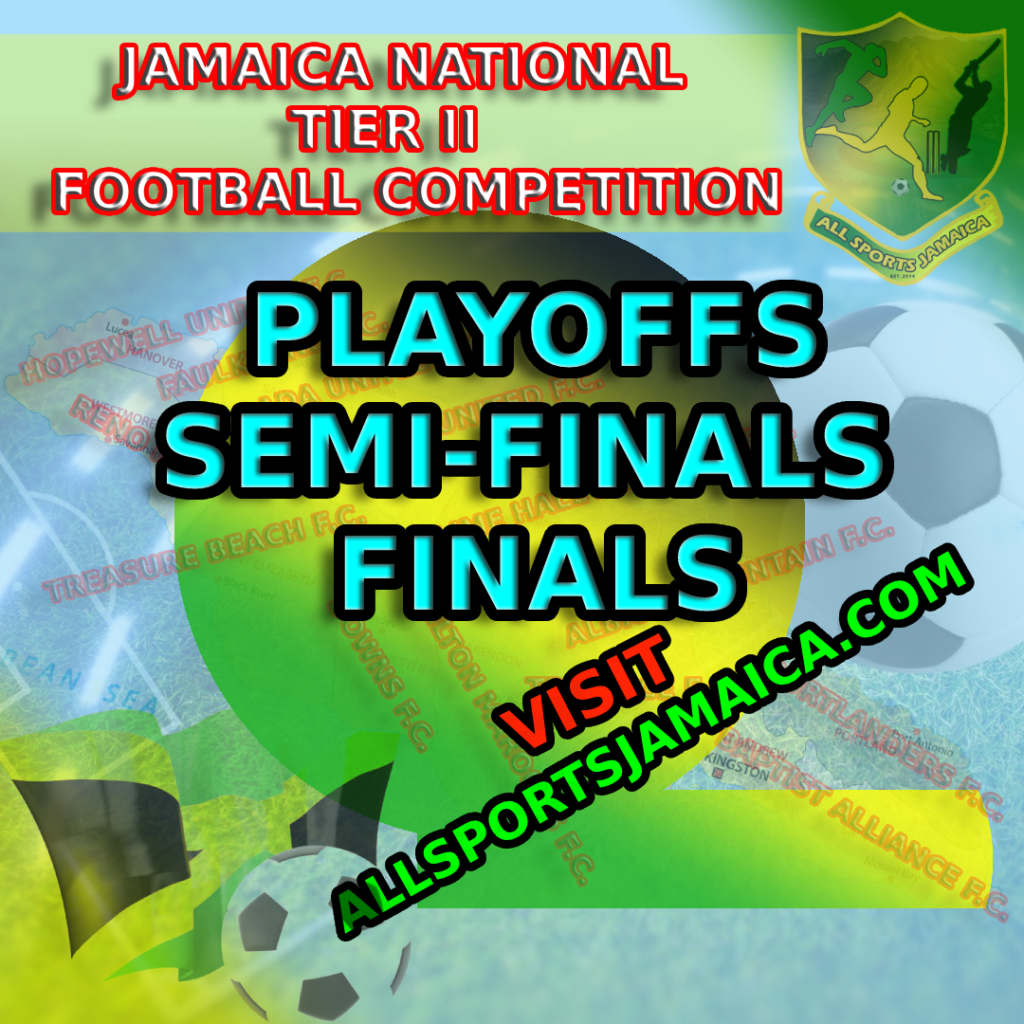 The Stage is Set for a Thrilling Showdown
As the Tier II Football Competition reaches its climactic stages, anticipation is building for the second leg of the Semi-Finals. After a riveting first leg that left fans on the edge of their seats, the remaining teams are now gearing up for the decisive showdown on July 2nd, 2023. With intense battles and thrilling performances witnessed in the previous matches, the stage is set for a grand finale in the quest for promotion to the prestigious Jamaica Premier League.
JFF National Tier II Competition Playoffs
In the first leg of the Semi-Finals, Racing United F.C. clashed with Lime Hall Academy, delivering a match filled with nail-biting moments and remarkable displays of skill. Lime Hall Academy emerged triumphant with a hard-fought 3-2 victory, placing Racing United F.C. in a challenging position for the upcoming encounter. The stage is now set for Racing United F.C. to mount a spirited comeback, utilizing their determination and tactical acumen to overturn the deficit and secure a spot in the finals.
In the other thrilling first leg encounter, Treasure Beach and Tru Juice went head-to-head in a battle for supremacy. Treasure Beach showcased their mettle and attacking prowess, emerging victorious with a confident 2-0 win. However, Tru Juice, known for their resilience and fighting spirit, will be determined to stage a comeback and turn the tide in their favor in the second leg. It promises to be a captivating clash as both teams leave no stone unturned in their pursuit of victory.
As the teams prepare for the decisive second leg, the atmosphere is charged with anticipation. The players are honing their skills, analyzing the strategies of their opponents, and fine-tuning their game plans to seize the moment. Each team knows that this is their final chance to make their mark and secure a place in the highly coveted finals, with the ultimate prize of promotion to the Jamaica Premier League within reach.
The Tier II Football Competition has captivated fans across Jamaica, with its thrilling matches, passionate supporters, and a showcase of emerging talent. The upcoming second leg of the Semi-Finals promises to be a spectacle of skill, determination, and heart-stopping moments. It is a stage where heroes are made, where dreams are realized, and where the relentless pursuit of victory takes center stage.
Stay tuned to AllSportsJamaica.com for comprehensive coverage, expert analysis, and exclusive insights into the second leg of the Semi-Finals. Follow the dramatic twists and turns, witness the heroes emerge, and experience the thrill of high-stakes football as the teams battle it out for glory. The countdown to the finals has begun, and the journey to the Jamaica Premier League awaits. Brace yourself for an exhilarating clash on July 2nd, as the Tier II Football Competition reaches its climax and teams fight to etch their names in football history.
About Author