Reggae Boyz Set to Dominate: Previewing the Clash Against St. Kitts and Nevis in the CONCACAF Gold Cup 2023
2 min read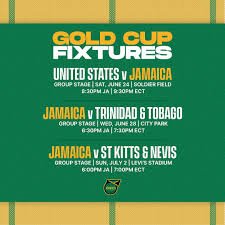 Reggae Boyz Aim for Dominance: Crushing Victory Anticipated against St. Kitts and Nevis
The Reggae Boyz are riding high on confidence as they gear up for their third match in the CONCACAF Gold Cup 2023. After an impressive 4-1 victory over Trinidad and Tobago, the Jamaican national team is ready to take on St. Kitts and Nevis at the Levi's Stadium in San Jose, California, on Sunday, July 2nd, 2023.
With the USA and Trinidad and Tobago already securing convincing wins against St. Kitts and Nevis, the Reggae Boyz will be aiming to showcase their dominance and add to their goal tally in this crucial encounter. While the coach might opt to rest some key players for the upcoming matches, the focus remains on maintaining the team's ruthless attitude and not letting up on the scoring front.
Jamaica's performance in the tournament thus far has been commendable, with their attacking prowess on full display. The likes of Leon Bailey, Michail Antonio, and Demarai Gray have been instrumental in orchestrating the team's attacking plays, providing goals and assists. They will be eager to continue their impressive form and make an impact against St. Kitts and Nevis.
In addition to the established stars, this match presents an opportunity for other players to step up and contribute to the scoreline. The depth of talent within the Reggae Boyz squad ensures that there are capable individuals ready to seize their moment and make their mark on the tournament. The emphasis will be on maintaining a high level of intensity and determination throughout the match.
St. Kitts and Nevis will undoubtedly put up a fight, aiming to secure their first victory in the tournament. However, the Reggae Boyz have their sights set on a dominant performance. Their relentless attacking style and cohesive teamwork make them a force to be reckoned with.
As the match unfolds, Jamaica will look to assert their authority on the game, controlling possession and creating scoring opportunities. The Reggae Boyz should aim to be clinical in front of goal and strive for a remarkable 6 to 8 goals or more. The focus will be on maintaining their winning momentum and instilling fear in their opponents.
With the passion and support of Jamaican fans echoing through the stadium, the Reggae Boyz are poised to put on a show and secure another resounding victory in their quest for Gold Cup glory.
Stay tuned for an exhilarating clash as Jamaica takes on St. Kitts and Nevis, promising a spectacle of skill, determination, and relentless attacking prowess.
About Author