Donovan "Razor" Ruddock And James Toney Box To A Draw
2 min read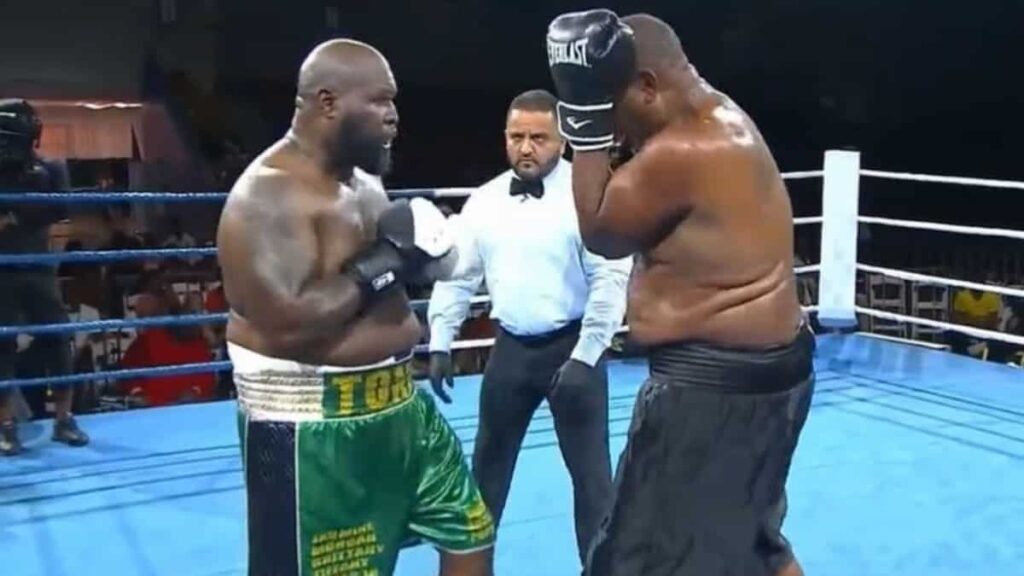 After the fight, boxing enthusiasts took to social media to complain about the legality of such boxing fights
Boxing legends Donovan "Razor" Ruddock and James Toney put on an entertaining show in their boxing match that ended in a draw. It wasn't the prettiest sight but the two veterans managed to deliver a memorable show. exactly pretty but, as promised, veterans James Toney and Donovan "Razor" Ruddock did manage to put on some kind of a show last night in Kingston, Jamaica.
The six-round exhibition bout happened in the National Indoor Sports Centre in Kingston, Jamaica. The Canadian-based Ruddock decided to organize the event in Jamaica because it is his country of birth.
Toney came in at 247 pounds while Ruddock weighed in at 260 pounds. Both guys looked out of shape and they even sported quite a belly. However, this wasn't surprising because Ruddock is 59 while Toney is 55.
The first two rounds were limited to three minutes, while the later rounds were limited to two minutes. The local commission enforced these rules in order to protect the boxes from hurting each other. Toney came in with a serious face and he showed quick hands throughout the fight. However, it was clear that his legs weren't there, and they haven't been there for years.
There were some early exchanges but both boxers showed their best skills in Round 4. The two fighters continued to throw labored punches into the later rounds. The commission stopped the fight when they realized that they were slumping in the ring.
After the fight, boxing enthusiasts took to social media to complain about the legality of such boxing fights. Their main concern was that this was a fight between men with a combined age of 114. The fans described the fight as 'disturbing' and 'grotesque.'
Toney retired in in 2017 after his last professional bout. He boasted of an impressive record of 77-10-3. He is also one of the few heavyweight boxers who has never been knocked out.
On the other hand, Ruddock retired seven years ago with a record of 40-6-1. His most famous fight was in 1991 when he fought Mike Tyson.
About Author