Elaine Thompson Herah to Face British Duo in Birmingham
2 min read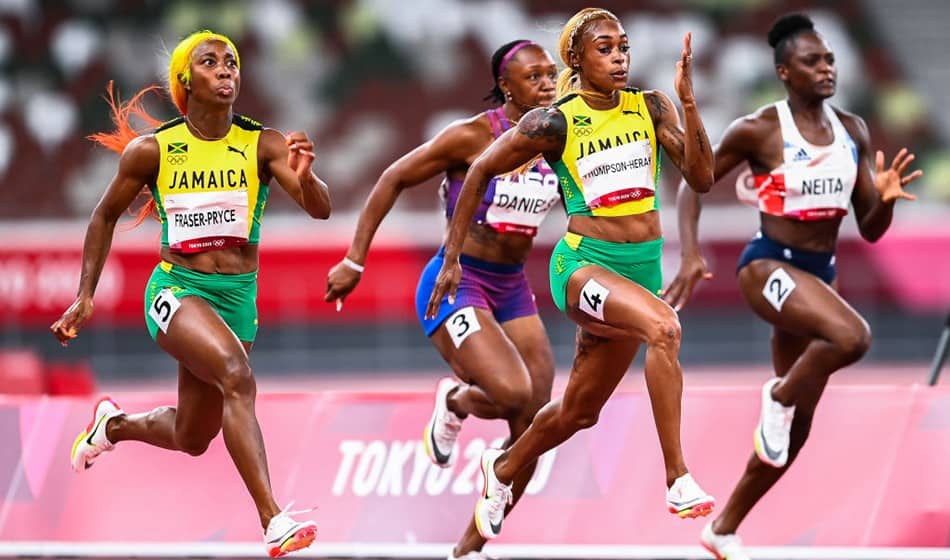 She Will Face Steep Competition from Dina Asher-Smith and Daryll Neita
The women's 100m at the Müller Birmingham Diamond League is set to be held on May 21st. The race will have quite the remarkable line-up which includes; Elaine Thompson Herah – Olympic 100m and 200m gold medalist, Shericka Jackson – Jamaican Olympic medalist, Gabrielle Thomas – American Olympic medalist, Daryll Neita – British sprinter and Dina Asher Smith – world 200m champion.
It is expected that she will face her steepest competition from Dina Asher-Smith and Daryll Neita.
Thompson Herah fought for the 100m and 200m titles in the Tokyo Olympics last summer. The 29-year old had won the same titles in Rio 2016. She also upgraded her Rio relay silver medal to gold in the 4x100m.
She is now the second fastest woman ever with the Jamaican record of 100m (10.54 seconds) and 200m (21.53 seconds) behind Florence Griffith Joyner.
In the 100m final in Tokyo, Neita finished in eighth place. She later ran a 10.93 PB last year in Zurich during the Wanda Diamond League final. After the season, she was ranked the second fastest British woman ever behind Asher Smith.
Jamaican Olympic and World medalist, Jackson, bagged bronze in the 4x400m and 100m and gold in the 4x100m race in Tokyo. The 27-year old is a member of Jamaica's World Championship as she won the 4x100m back in 2019.
She also won the bronze medal twice in Doha 2019 in the 4x400m and 400m. In the Tokyo final, she attained her 100m lifetime best of 10.76 seconds.
4x100m Olympic silver medalist, Thomas, was the second runners-up in the Tokyo 200m. The Harvard graduate boasts of a 100m best of 11.00 seconds. She has begun her 2022 season quite strikingly as she challenged her best time in the USATF Golden Games on April 16th.
She clocked a wind-assisted 10.86 seconds in the final before running 22.02 seconds in the 200m 24 minutes later.
This marked the third fastest time ever seen in the 200m race. She displayed an even better performance of 10.80 seconds in the 100m at the Michael Johnson Invitational on April 23rd.
Asher Smith is a double bronze medalist in the Olympic relay. She is also the British record-holder of 100m (10.83 seconds) and 200m (21.88 seconds). In addition to this, she won silver in the 100m and 4x100m in Doha 2019 and is a stout European champion as she won three gold medals in Berlin 2018 in the 100m, 200m and 4x100m.
About Author