ENGLAND BEATS Jamaica In Netball Series
2 min read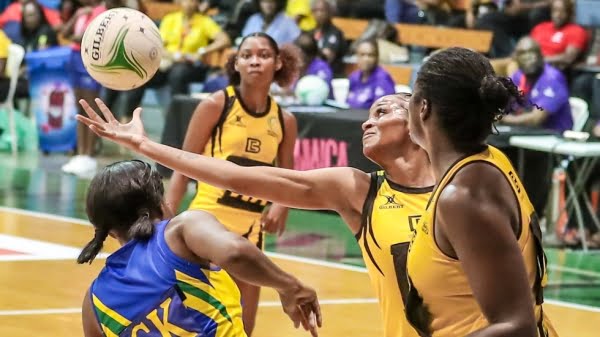 The three-match series acted as Jamaica's final preparation for the upcoming South Africa World Cup this summer
The Jamaican senior women's netball team recently faced England in a three-match Vitality International Series game that saw them lose 2-1 to the host country. In spite of this, the Sunshine Girls' head coach Connie Francis stated that she was happy with her team's play during the game.
Yesterday's match that went down at the Copper Box Arena in London saw the Sunshine Girls lose 63-59 as several players in the squad were nursing injuries. The first match went down in Manchester at the OA Arena in which Jamaica lost 73-52. They bounced back to win their second match on Saturday whereby they beat England 61-58 also at Cooper Box.
The three-match series acted as Jamaica's final preparation for the upcoming South Africa World Cup this summer. The Sunshine Girls were still quite the challenge despite some of the team's players having injuries and not having some of their top tier players for the series.
Meanwhile, the England Roses who are currently ranked third in the standings, are set to meet South Africa this weekend. They met Jamaica last year for a similar series in which they won 2-1.
Jhaniele Fowler, Jamaica's skilled shooter, did not play throughout the third quarter. Moreover, wing defender Crystall Plummer was asked to leave the match for 2 minutes after she was warned for repeating violations bringing down the squad to 6 players as the third quarter came to an end.
Fowler commented that she left the game after she started feeling nauscious. She was shortly replaced by Shimona Nelson from Australia before she later returned in the fourth quarter.
England took an early lead in the first quarter beating Jamaica 20-16 but Jamaica outscored them 15-10 in the second quarter thus giving them a 31-30 lead by half-time.
Furthermore, the third quarter also saw substitute Rebekah Robinson step in for Shanice Beckford. As the final quarter began, England were leading with 48-44. Despite Fowler's efforts in this quarter, the Sunshine Girls could not exceed 2 goals at any instance.
About Author