Jamaica Beats Panama In Women's World Cup
2 min read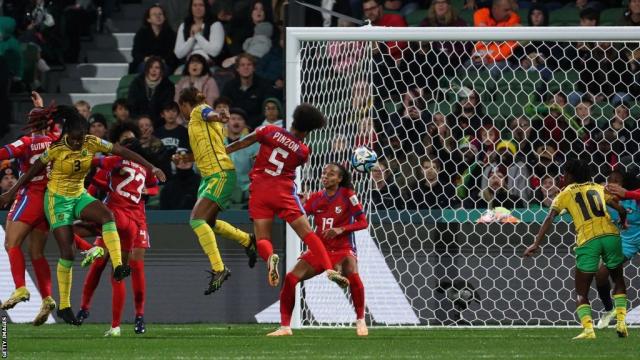 Jamaica's next match against Brazil is scheduled to take place on Wednesday
The Jamaican women's national team beat Panama to secure a narrow 1-0 win against Panama. This was the Reggae Girlz's second game in the ongoing FIFA Women's World Cup.
Jamaica is participating in its second ever World Cup and this is the nation's first-ever win in the tournament.
Jamaica's goal was scored in the 56th minute by stand-in captain Allyson Swaby. The goal was created from a corner kick that was delivered by Trudi Carter. Swaby headed the ball into the net, giving the Panama goalkeeper no chance at a save.
The Jamaicans delivered this historic win in the Perth Rectangular Stadium in Australia.
The Girlz were forced to play their Concacaf rivals Panama without leading scorer and captain Khadija Shaw. The Manchester City striker was sent off during Jamaica opening match against favorites France. She will return in the next game against Brazil now that she has completed her 1 match ban.
Rebecca Spencer; Jamaica goalkeeper, was one of the stand-out players in the match. She made four saves to ensure that the Girlz maintained their lead. This is the first time that the two CONCACAF teams have met in the group stage.
Jamaica is currently sitting pretty on top of Group F. The Carribean team shares this position with France, with both teams being tied at 4 points. Brazil is the third team with 3 points while Panama is last with 0 points.
The Jamaican-born Swaby was overjoyed with her performance. She said that it's 'huge' to have scored winning goal for her country.
Jamaica's next match against Brazil is scheduled to take place on Wednesday. Panama will face off against France in Sydney the same day.
About Author