Jamaica vs USA
2 min read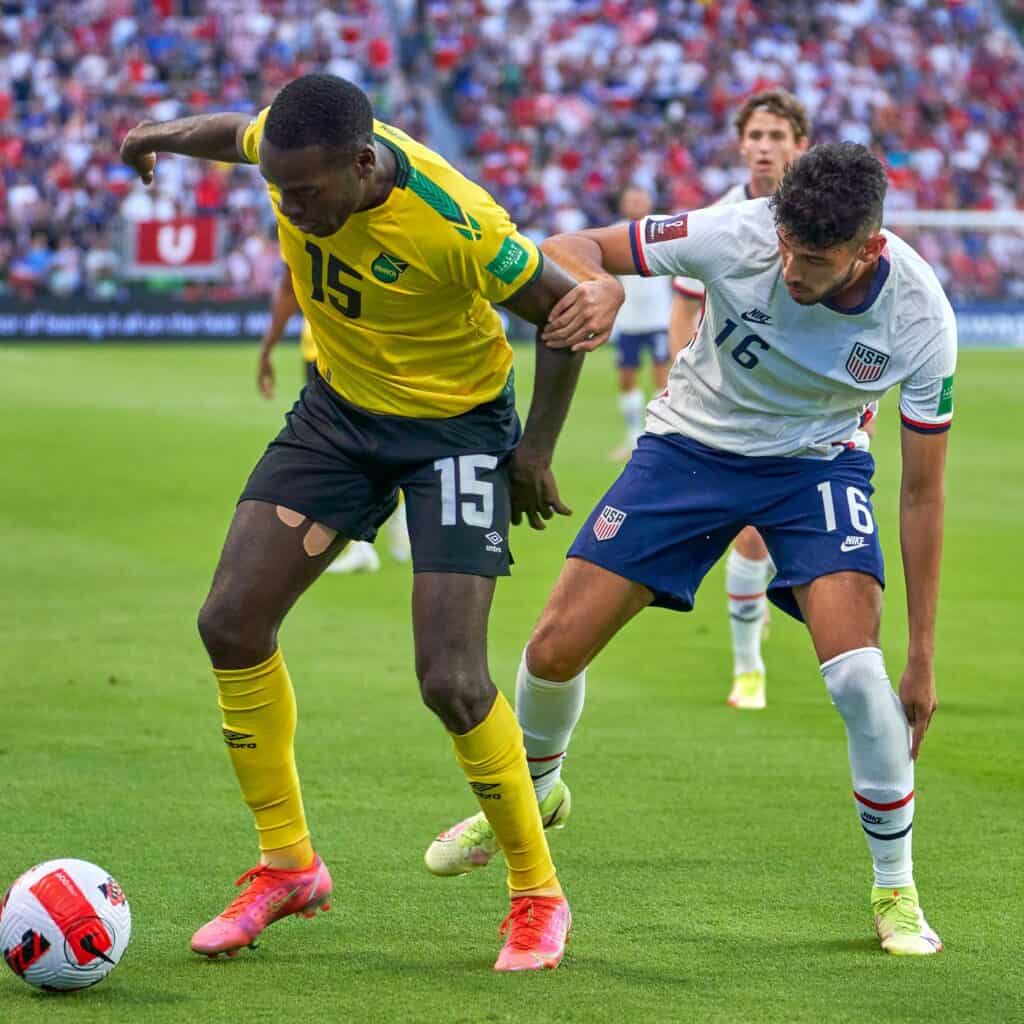 The Jamaica Reggae Boyz followed up their 1-1 draw with El Salvador with another 1-1 draw against the United States in Kingston. On the other hand, the US men's team is coming from a 2-0 win over Mexico. These results mean that USA stands at 15 points, one point behind Canada who are leading the CONCACAF Octagonal with 16 points after beating Mexico 2-1. Mexico and Panama are now tied on 14 points; both teams are in third position. Panama finished its game with a 2-1 win against El Salvador.
The US national team features big name players like Chelsea's Christian Pulisic, Weston Mckenie of Juventus and Dortmund's Gio Reyna. This was a game that was marketed as a game that would be decided by two superstars: Christian Pulisic against Jamaica's Michail Antonio. Midfielder Weston McKennie (yellow card accumulation) and defender Miles Robinson (red card) were each suspended for one match following the USA's 2-0 win against Mexico and they therefore weren't available for the game against Jamaica. As a result, head coach Gregg Berhalter added defender James Sands to the roster for USA-Jamaica.
The U.S. national team began the game with a bang after Tim Weah finished a well-worked combination in the 11th minute. Tim Weah is the son of former professional soccer legend, Ballon d'Or winner, and President of Liberia, George Weah. He plays as a forward for French club Lille. The Jamaican team had many good many good moments but the U.S. looked comfortable until a Michail Antonio wonderstrike from 30 yards out changed the complexion of the match and evened the score. Antonio's goal came in the 22nd minute. He took the ball on the left wing and dribbled past two defenders before sending an absolute rocket that left the US. goalkeeper for dead.
Jamaica almost stole the game and the Island boys were even playing better than the U.S. team at some point. In the second half, the Jamaican Reggae Boyz scored a headed goal that was disallowed by the referee for a foul on Walker Zimmerman.
Strictly speaking, a draw is a good result for the US on the road. However, the U.S will be very disappointed after seeing the US put on such a strong performance against Mexico just a few days earlier. It's frustrating to see the USMNT be so inconsistent.
The US started off hot, with an early goal from Tim Weah. The team looked like they were going to comfortably win the match, only for Michail Antonio to score with an absolutely thundering strike from way out. After that, the US players seemed to lose their heads and the game descended into a plodding mess. A draw was probably fair result considering both teams created few quality chances.