JOA Boss says Women's 100m Clean Sweep is the Best Gift for Independence Day
2 min read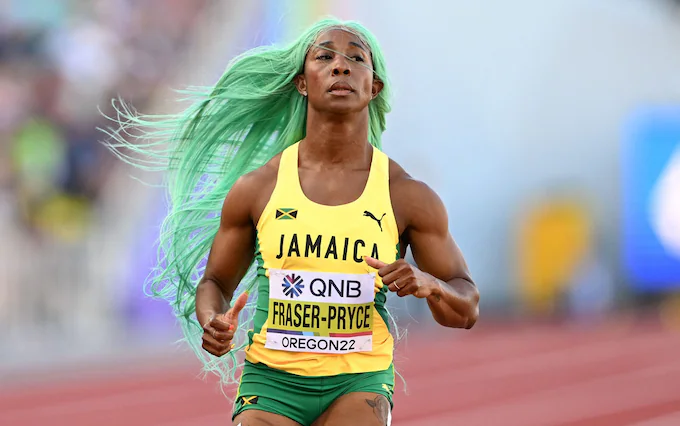 This Win Means that Fraser-Pryce is the Greatest Female Sprinter of All Time
The Jamaica Olympic Association president, Christopher Samuda has heaped praises on Shelly-Ann Fraser-Pryce, Shericka Jackson and Thompson Herrah for dominating the first three positions of the Women's 100m. The three Jamaican ladies swept all the medals at the World Championships.
Samuda said that the women's dominance is the best possible "Independence gift" for the Caribbean nation of Jamaica. He insisted that this win will inspire the next generation of Jamaicans to dream big.
Many Jamaicans and neutral observers anticipated that Jamaicans would dominate the women's 100m race because they also shone in the Tokyo Olympic Games.
In 2022, the trio were the fastest women in 100m and they were in supreme form going into the championships.
All three women won their semi-final races in order to secure their places in the final. Their main competition came from Dina Asher-Smith of Great Britain.
Fraser-Pryce finished as the leader with an impressive time of 10.67s while Shericka Jackson followed her with a time of 10.73s. The third position was occupied by Thompson-Herah with a time of 10.81s. Asher-Smith had to accept defeat from the Jamaicans and she settled for fourth with a time of 10.83s. This win means that Fraser-Pryce is the greatest female sprinter of all time.
Previously, Jamaica has swept all the medals in the women's 100m. In 2008, Fraser-Pryce, Kerron Stewart and Sherone Simpson took the three first positions in the Olympic Games. Male Jamaican sprinters have also been known for sweeping all the medals in major athletics events.
Shericka Jackson is the National champion, while Shelly-Ann Fraser Pryce is the reigning World Champion and Elaine Thompson-Herah is an Olympic champion.
Samuda said that this victory proves Jamaica's sprinting prowess when compared to other great sporting nations. He thanked the three athletes for giving the nation something to celebrate. He described it as an independence "gift of character."
Samuda claimed that the Jamaican athletes had earned a right to enjoy this glory because they have shown high-level of performances over the years.
He said that JOA appreciates that the athletes have to possess good attributes like determination, courage and commitment. These athletes also have ambition and hard work. These values make them good role models for people in all fields.
About Author