Reggae Boy Jamal Lowe Scores to Help Bournemouth Beat Derby County
2 min read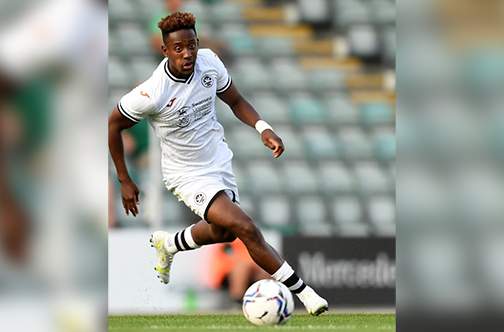 Lowe was Introduced as a Substitute
Reggae Boy Jamal Lowe scored a late goal in the English Championship to help Bournemouth defeat Derby County. The game ended with a score line of 2-0 in favor Bournemouth.
Lowe was introduced as a substitute in the second half, he snuffed Derby's hopes of scoring an equalizing goal. His goal came in stoppage time. The relegation-threatened Derby County are now stuck at the bottom of the table. The 27-year-old Jamaican got his chance to score after Derby goalkeeper Ryan Allsop's parried Dominic Solanke's shot. The chance fell perfectly into his feet. This is Lowe's sixth goal of the season.
The first Bournemouth goal was scored by Solanke earlier in the game. The Chelsea academy graduate has now scored 22 goals this season.
Earlier in the match, Reggae Boy Ravel Morrison was brought down in the box after he was challenged by Leif Davis. However, the referee refused to give Derby County a penalty.
Wayne Rooney, the Derby County manager, said that he was disappointed that the referee refused to award his team an obvious penalty. He said that everyone in the stadium knew it was a penalty.
In other games, Jamaican target Ivan Toney helped Brentford beat Burnley by a score line of 2-0. Toney scored both goals, the first one came in the 85th minute while the second one came in stoppage time. This loss has now ruined Burnley's chances of remaining in the premier league as they currently sit second from bottom.
Ivan Toney's Brentford is currently sitting in the 15th position in the English top flight. Toney now has eight goals in his past six matches. This is Brentford's first season in the premier league and it looks like they will not be relegated to the championship. The Jamaican national team is hoping that Toney will commit his future to the Reggae Boyz.