"Reggae Girlz Gear Up for World Cup with Sheffield United Friendly"
2 min read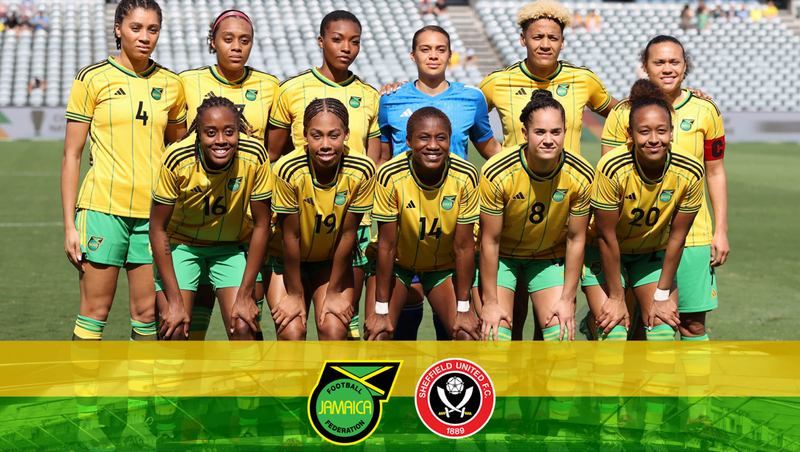 Jamaica's Reggae Girlz Gear Up for World Cup Preparation with Sheffield United Friendly
Jamaica's women's football team, the Reggae Girlz, are preparing for the upcoming FIFA Women's World Cup with a friendly match against Sheffield United on Monday, April 10. The match comes after the team's training camp in England, which included Women's Super League Player of the Month, Khadija 'Bunny' Shaw, among the 18 players selected.
In an exclusive interview with Tallawah TV, Shaw expressed her pride in representing her country, saying, "I love representing my country, it's a pride and joy when I put that jersey on and you know the crest and everything. I try to give my all when I play for Jamaica and nothing will change. This July we will come together as a group, we'll work extremely hard to put smiles back on the Jamaican faces again."
The Reggae Girlz have been drawn into a tough group in the World Cup, alongside France, Brazil, and Panama. But Shaw believes that with quality preparation, the team can make it through the group stage.
"The group has gotten better since the last World Cup, but it will come down to preparation and having training and practice games to see where we are physically and mentally because some of those games will bring out the mental toughness in players," she said.
The team's friendly against Sheffield United will be an important test for the Reggae Girlz, as they continue to fine-tune their game ahead of the World Cup in Australia and New Zealand later this year. Fans of Jamaican football will no doubt be eagerly awaiting the team's progress, hoping that the Reggae Girlz can bring home some success on the world stage. Stay tuned to allsportsjamaica.com for all the latest news and updates on the Reggae Girlz and their World Cup campaign.
About Author