ANNUAL LAUNCH FOR THE SMART EGGS KIDS K AND CB GROUP UWI 5K
3 min read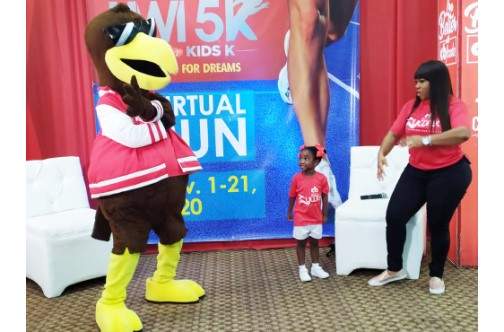 The CB Group UWI 5K and the incredible Smart Eggs Kids K will hold a virtual event. The event will run till 25th November. It will be a chance for every willing person to participate in a noble cause. The money that will be raised will be used to help students who are gifted academically and are in dire need for financial aid at the UWI.
The event dubbed Running for Dreams will not take place in the University of West Indies but rather, will be conducted virtually due to the ongoing Covid-19 pandemic. This will enable people from all over the world and regionally to participate in this worthy cause. According to the convener and Institutional Advancement manager of the event, Elizabeth Buchanan-Hind, the Smart Eggs Kids K and CB Group UWI 5K marks its 10th anniversary this year. Had it not been for this event, many students would not be able to continue with their studies due to financial constraints.
This event has given out more than 300 scholarships to numerous needy students; most of the kids are firstborns or first to attend higher learning in their villages. Therefore, this event has impacted so many lives and therefore plays a major role shaping future generations.
The event will be supported by the distinguished Dr Douglas Orange, a philanthropist, an author and retired business leader, Dr Donette Chin-Loy Chan, a philanthropist and Communications leader and Dr Thalia Lyn, an honorary consul and business leader of Thailand. Dr Chang applauded the students who were successful in getting the scholarship and congratulated them for enduring hard times for the past 18 months.
As she spoke in her home in Canada, Dr Chang urged the students to work hard in all their endeavors in order to make their loved ones proud. She went on to advise them that they should never compromise their principles as they work towards achieving their dreams. They were also told to surround themselves with compatible people. She urged them to always strive to become the best, be grateful for everything, be vigilant and kind and take care of their surroundings as a whole.
She ended her speech by quoting a portion of her late husband's speech and asked the scholarship awardees to always ask themselves what it is that they could offer to their neighbor so as to make the world a better place.
The event will also honour persons who have made exceptional contributions in sports. This includes: Hansel Parchment, the 110 meters gold medal winner in the track and field hurdles. He pledged to honour and continue supporting the event. Honorees of the past include Molly Rhone, who played Netball for Jamaica, Asafa Powell, Broadcaster Neville and coach, Head coach Dr Glen Mills and the managing director Alfred Francis.
All persons willing to participate are expected to sign up at www.uwi5k.org. They will then be given bibs and have the opportunity to walk or run over a period of five weeks. The event started on 24th of October till 25th November. All successful finishers shall be given medals.