Alia looks great in the Netherlands for London Roar
2 min read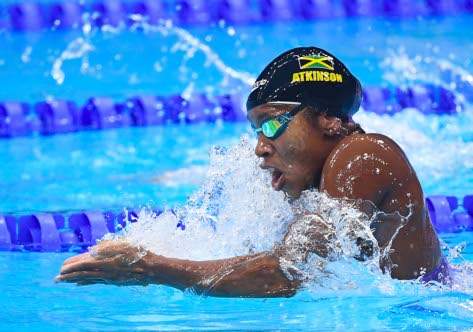 Even though Alia Atkinson is 32 years old, her performance at the third edition of the International Swimming League (ISL) makes it seem as if she has turned back the clock on her years. In Eindhoven, the Netherlands, the Jamaican champion swimmer came up big for her London Roar club, swimming five events in the penultimate playoff round to put her squad in position to compete in another final.
Atkinson, who will turn 33 in a few weeks, won the 50m and 100m breaststroke events. Additionally, she led in the 4X100m medley relay, prior to joining the bronze-medal-winning mixed 4X100m medley relay squad. She was then asked to swim in unfamiliar waters for the first time since the playoffs began, only for the purpose of securing points, which she did by finishing sixth in the 100m butterfly.
Though her valiant efforts didn't propel the Steven Tigg-coached London Roar to victory, they did secure second place and a spot in the four-team grand finale, which will take place on December 3 and 4, awaiting the results of today's final playoff game. The 2019 champions, Energy Standard, won the match on Friday with 539.5 points, trailing the London Roar with 498.5. The table was rounded out by LA Current (395 points) and DC Trident (285 points).
Atkinson stated before the commencement of the two-day competition on Thursday that with each competition, their team had improved, and was looking forward to a thrilling contest. And it was thrilling, as she started her record with a blistering 29.19-second mark in the 50m breaststroke, her quickest performance this year.
Atkinson absolutely hammered the event in a thread performance, performing well against LA Current duo of Anastasia Gorbenko, Israel's champion (29.68s), and British winner Imogen Clark (29.96s), who had beaten her earlier this season.
In the process, the Jamaican also accumulated the fifth, sixth, seventh, and eighth-place finishers, earning a total of 19 points. Eventually, Atkinson returned to make it two in a row, this time in the breaststroke leg of the 4X100m medley relay. She scored 1:03.76 and finished in 3:47.48 alongside Kira Toussaint, Emma McKeon, and Marie Wattel.
The minor placings went to Energy Standard with a record of 3:48.58 and LA Current with 3:49.34. The five-time award-winning Jamaican was subsequently called upon to help colleague Wattel get scores in the 100m butterfly, where she finished sixth in 57.32 seconds.
Wattel's record of 57.05s made him take the fourth position, behind Energy Standard's Sarah Sjostrom 55.51s, LA Current's Anna Ntountounaki 56.33s, and DC Trident's Linnea Mack 57.01s. On Friday, Atkinson won again, this time in the 100m breaststroke in 1:04.38, beating Gorbenko's 1:05.13 and Evgenia Chikunova 1:05.79.
the South Florida Swimming Team veteran burst out of the blocks and performed her famous smash turn off the wall after putting in a memorable performance. We hope that she can move to bigger and better things.
About Author