Clovis De Oliveira Receives Offers From JPL Clubs
2 min read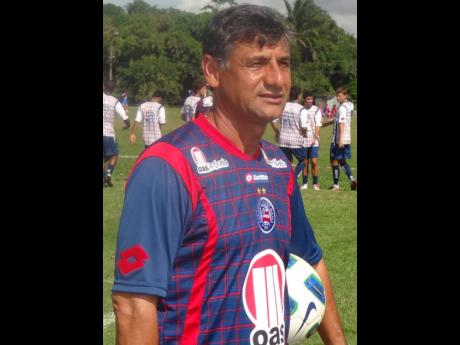 The Brazilian coach insisted that he is unlikely to turn down an opportunity to return to Jamaica because he has fallen in love with the Caribbean country
Clovis De Oliveira, the former coach of the Chapelton Maroons, has revealed that he could return to return back to local football after receiving offers from Jamaican clubs.
The Jamaican took over the Chapelton Maroons job after Lenworth Hyde was sacked by the Jamaica Premier League (JPL) club. He was also fired after enduring a turbulent time as the new coach. He was fired with a record of two draws and one win in 10 matches
Brazilian revealed that he could be back into local scene as soon as next season. He is currently considering his options in his native Brazil. The former national under-20 coach revealed that he wants to take his time before deciding which clubs fits him the most.
Clovis De Oliveira insisted that he is unlikely to turn down an opportunity to return to Jamaica because he has fallen in love with the Caribbean country. He revealed that he developed his love for the country after visiting the countryside. He said that he got a different perspective of Jamaica after moving from Kingston to the rural areas. He refused to reveal the identity of the clubs that have contacted him. However, he confirmed that it was two JPL clubs. He said that he feels honored to be under consideration from these clubs.
De Oliveira said that he believes that his next stint in Jamaican football will be more successful than the last one. He revealed that he struggled in Chapelton Maroons because didn't have a deep knowledge of the players strengths and weaknesses. He also feels that he didn't get enough time to implement an effective programme.
He is waiting to see what will happen in the current season because football can be very unpredictable.
About Author