The FIBA Centrobasketball U17 Championship sees Jamaica finish sixth
2 min read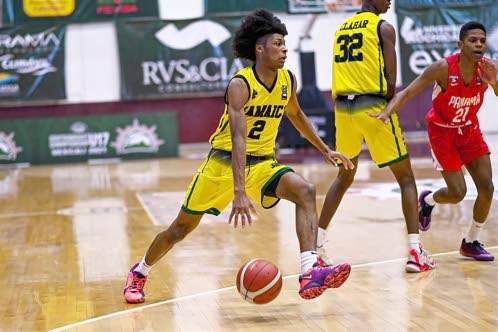 After succumbing to a 76-82 loss to Panama in their 2nd edition game at the Instituto del Deporte y la Cultura Física en Mexicali, Mexico, Jamaica came the sixth position on Sunday in the FIBA Centrobasketball U17 Championship. Both teams came in 3rd in their first-round, on Saturday, they won their first games in the Classification games, and faced off for 5th position on Sunday.
On Saturday, Jamaica, who defeated El Salvador in the opening round, defeated Aruba 81-59, while Panama defeated El Salvador 94-60. On Sunday, Jamaica lagged by as much as 13 points in the 4th quarter before battling to trim the lead to five points with just under three minutes remaining in the game, but they were unable to shrink the gap any further. The first quarter ended with Jamaica leading by two points (23-21), however, Panama took the lead (43-39), at half-time, and the third quarter ended with a nine-point lead (67-58).
Once again, shooting guard London Johnson headed the Caribbean squad in scoring with 34 points while also grabbing 13 rebounds and assisting seven times. For Jamaica, Marcus McDonald had 13 points and Flawless Travers had 12, while Daeshawn Hannam, who struck out late in the fourth game, and Romero Millis each had six points.
Panama's Humberto Kentish led the team with 16 points, six rebounds, and six assists, while Fernando Gonzales had 14 points and nine rebounds, Victor Julio had 12 points, and Andres David Vergara Orocu had 11 points.
Jamaica gained fire after a slow start and won their 2nd match of the FIBA U17 CentroBasket Championship in the first round of Classification matches. The game was knotted at 12-12 after the first session as Aruba tried to win their 1st match of the playoffs. After falling behind 8-0 to start the game, Aruba scored nine straight points to take their first edge of the championship, 9-8, thanks to 5 quick points from Bjorn Thijsen.
Jamaica's fortunes changed in the second quarter, as they outscored their Caribbean opponents 31-13 to take a 43-25 advantage into halftime. For Jamaica, London Johnson who had16 points and Marcus McDonald who scored 15 points led the charge in the first half, while Aruba's Kyrian Brooks had 11 points. In the first two quarters, both teams shot poorly, but Aruba's 19 turnovers resulted in a 23-point advantage.
Easy buckets continued to cash in on Aruba missteps, and Jamaica led by as many as 29 points in the second half. The score was 69-45 at the half. Jamaica won their second game of the tournament with a score of 81-59 after ten minutes. The top scorers for Jamaica were Johnson with 29 points and McDonald with 28 while Aruba's Jean Salomond led three players in double figures with 19 points and 19 rebounds.
Jamaica played with Panama in round two of Classification play for fifth and sixth position, while Aruba faced El Salvador for 7th and 8th spot in the competition.
About Author