Jamaica's Ode Osbourne Loses to Tyson Nam in Latest UFC Event
2 min read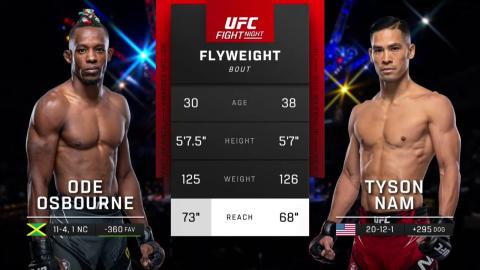 Ode Osbourne is Regarded as One of the UFC's Fastest Rising Prospects
Jamaica's Ode Osbourne was on the receiving end of a brutal knockout from Tyson Nam during the latest UFC event. Ode Osbourne was on a two-fight win streak and he is regarded as one of the UFC's fastest rising prospects.
This is a dramatic result for Nam after nursing a knee injury that has kept him out for over an year. He is coming off a loss to Matt Schnell.
Osbourne was hoping to secure a win over Nam in order to extend his winning run. The fight happened during the prelims of UFC Fight Night: Vera vs. Cruz. This event was held at Pechanga Arena in San Diego, California.
The 38-year-old Tyson Nam caught Osbourne with a brutal right hook when the Jamaican was trying to hit him with a flying knee. Osbourne was crashed down to the canvas and was knocked out immediately. The veteran flyweight added an additional punch that put Osbourne's lights out. The referee stepped in to rescue Osbourne at just 2:59 of the first round.
Osbourne is an exciting prospect and it's therefore not surprising that he was outshining Tyson Nam in the early stages of the fight. However, Nam rallied back and secured the victory using his "heavy hands of steel."
Osbourne showcased his wide range of striking options and he almost knocked out Nam with an early flying knee. Nam analyzed the Jamaican's moves and maintained his composure. He even produced an ominous smile after he survived the first knee. Osbourne was caught with the right hook after he tried to go for a second flying knee.
After the fight, Tyson Nam promised UFC fans that he will be back in the octagon in two months. He also revealed that he would declare who he would like to fight next in his social media account. The Ultimate Fighting Championship is revered for being the biggest martial arts organization in the world.
Osbourne is a talented fighter and many MMA experts expect him to bounce back from this loss. He is among the few UFC fighters with Jamaican ancestry. Some of the other fighters with Jamaican roots include welterweights Randy Brown and Leon Edwards.
About Author