Khadija Shaw Signs New Contract With Manchester City
2 min read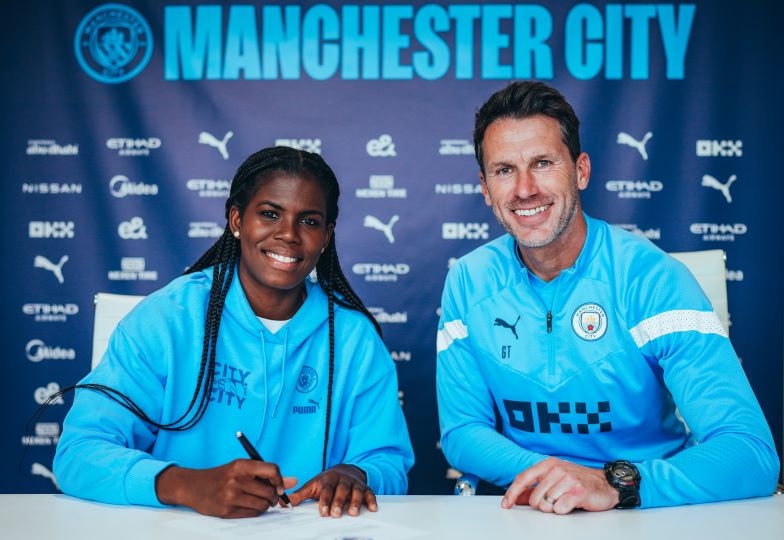 Shaw will now turn her attention to the Jamaican national team. The Reggae Girlz are preparing for a deep run in the upcoming Women's World Cup
Khadija Shaw has signed a contract extension with the Manchester City women's team. The Jamaican international will now play for the English club until 2026.
The striker helped Manchester City to a fourth-placed finish in the recently-concluded Women's Super League. She established herself as one of the best players in the team with her prolific goal-scoring ability. She boasts of 20 goals in 22 league appearances.
Shaw finished as the second-best goal scorer in the English women's league. The top scorer was Aston Villa's Rachel Daly with 22 goals. The third position went to Tottenham's Bethany England. Sam Kerr, last season's top scorer, was in fourth position with 12 goals. Sam Kerr's goals helped Chelsea to a fourth WSL title in a row.
This has been Shaw's second season in England after she was signed from Bordeaux in 2021.
Shaw was given an award for being Manchester city's player of the season. She told journalists that she will continue pushing herself because she feels that the club has been good to her. She thanked the fans for their love and support since I arrived.
Shaw was also recognized as CONCACAF's women's player of the year. This is Shaw's best season of her career having scored 31 goals in 30 appearances in all competitions.
Gareth Taylor, City's head coach, said that she is happy to have a prolific striker like Shaw in her team. Taylor praised "Bunny" Shaw for the growth and development that she has shown over the last two seasons.
The fourth-placed finish is the lowest that City has ever recorded in nine years. Shaw will be hoping that her goals will help her club win a trophy in the upcoming season.
Shaw will now turn her attention to the Jamaican national team. The Reggae Girlz are preparing for a deep run in the upcoming Women's World Cup. This tournament will be happening in Australia and New Zealand this summer. Shaw has also been prolific for Jamaica, having scored two goals in the last three games. She currently has 55 goals in 38 appearances for the Reggae Girlz.
About Author