NETBALL: Jamaica Destroys Tobago and Trinidad to Secure Series Sweep
2 min read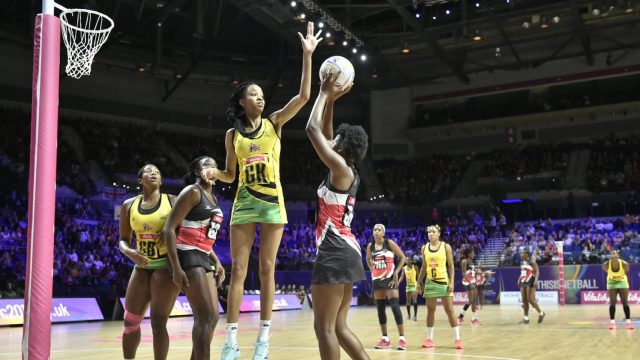 The Sunshine Girls team of Jamaica recently showed their 'A' game and were revered for the 41 goals which gave them a win of 73-22 over Tobago and Trinidad. The game was held in Kingston at the National indoor sports Centre, where the girls were inspired by the best shooter in the universe, captain Jhaniele Fowler to a 3-0 curve over their opponents.
Sunshine girls who were ranked at number four were put to the top, thanks to their captain's precise shooting during the opening of the third quarter. Ranked in the 10th place on the world board are the Calypso Girls, who were outshone and brutally swept over by the Sunshine Girls during the three-game series.
In the first quarter of the game, Trinidad and Tobago placed their best foot forward and managed to score seven goals before half time. However, Jamaica made a strong lead of 40-10. Within the first half, the Sunshine girls had managed to score 23 goals limited the Calypso girls to 3 goals only. The Sunshine girls went on to dominate most of the third and fourth quarters, just as they did in the first and second even though Fowler was not playing. At the start of the third quarter, captain Fowler was let into the game, which unleashed the all-powerful Sunshine Girls attack against the defenseless Trinidad and Tobago girls. They went on to lead with 22 points and eventually shone with 44-22 when the third quarter ended. Fowler eventually scored 36 goals from 38 attempts in the same period.
Jamaica led by 57-16 after adding17 more goals over Trinidad and Tobago who scored six goals only during the third quarter. After a sum of 46 attempts, Sunshine girls' captain managed to get 41 goals. She was named the series MVP for her unbelievable skills in shooting. Other recognized stars were, Shanice Beckford who supported her with 13 goals from 17attempts, Gezelle Allison who scored 10 goals from 14 attempts, and Rebecca Robinson who got 9 goals from 13 attempts.
Trinidad and Tobago's scorers were, Kalifa McCollin with 14 goals from 17 attempts, Afeisha Noel, 7 goals from 9 attempts, and Afiya Vincent, 1 goal from 3 attempts. Jamaica won 71-22 during the first game that was played on Saturday and 64-32 on the second game played on Tuesday thereby taking the lead by storm.
Fowler couldn't have been prouder for the beating that her and teammates gave to T&T. Their efforts were certainly rewarded after spending most of their time training hard for that game. With the experience gathered during their good fight against T&T, the Jamaican girls are expected to face the Jamaican male team in a match that will be held in the same venue. The girls have also started preparing for the match against England Roses in the three-test series that will be held this November.