Nicholson Wins Russian Cup with Spartak Moscow
2 min read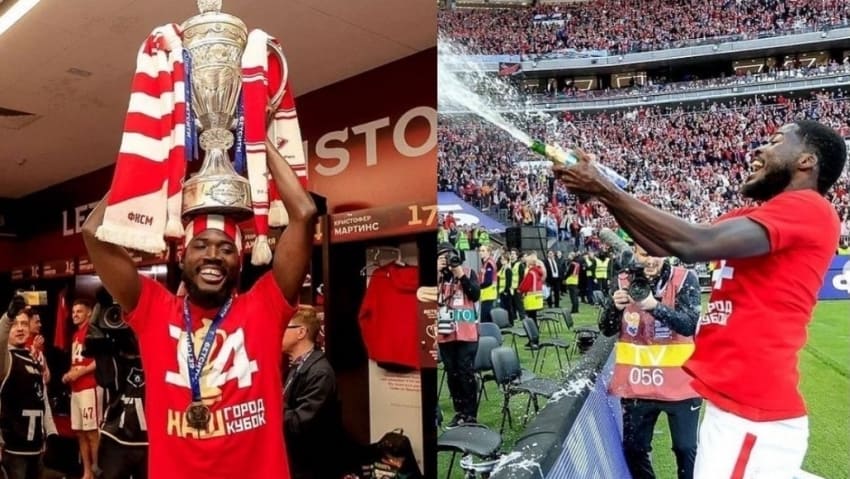 This Win is Good for Nicholson's Career Since it Will Expose Him to Big European Teams
Jamaica footballer Shamar Nicholson was in action for Spartak Moscow when they lifted the Russian cup in a match against Dinamo Moscow. The game ended with a score line of 2-1 as the two city rivals went for each other's necks.
Nicholson didn't start the game but he was introduced as a substitute to replace Mikhail Ignatov in the 66th minute.
Aleksandr Sobolev started the scoring for Spartak in the 10th minute of the game before Arsen Zakharyan drew level for Dinamo early in the second half.
Netherlands international Quincy Promes struck in the 72nd minute to help Spartak Moscow regain their lead.
Dinamo Moscow wasted a golden chance to get back into the game when they won a penalty but Daniil Fomin missed nine minutes into added time.
This victory means that this is Spartak Moscow's 14th Russian cup since the competition was started. This is also Spartak's first Cup title since 2003.
One of the standout performers was former Chelsea player Victor Moses who had a performance to remember. Nicholson also gave a good account of himself when he came on.
Under normal circumstances, the Russian Cup winners are rewarded with a spot in the group stages of the UEFA Europa League group stage.
However, the Russian national team as well as all Russian clubs, have been blocked from participating in European competitions until Russia's conflict with Ukraine is resolved.
This win is good for Nicholson's career since it will expose him to the big European teams that have been scouting him. It shows him in a good light since he is now establishing himself as a "big-game" player.
About Author