Quarter-miler McDonald Still Celebrating Season-Best 44.03
2 min read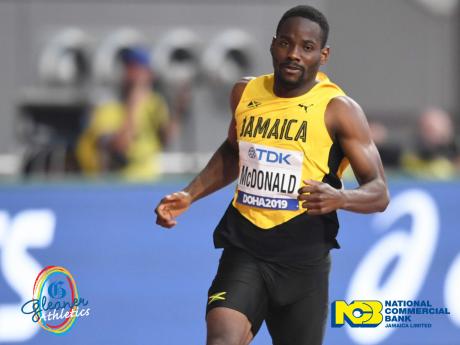 He revealed that he has had to deal with haters who have been calling him a 'garbage heap.'
Rusheen McDonald is still celebrating his season-best finish in the Bregyó Athletic Center in Szekesfehervar, Hungary. The record holder recorded a memorable time of 44.03 seconds in the men's 400m race. This win came during the Istvan Gyulai Memorial tournment.
McDonald finished in second place while Steven Gardiner came first. Gardiner recorded a world-leading time of 43.74 seconds. This time means that the World Athletics ranks Gardiner in the third position in their list.
This was McDonald's second-fastest time ever. In 2015, he recorded a Jamaican record of 43.93 seconds in the World Athletics Championships. this was during the first round of the tournament in Beijing, China.
McDonald revealed that he felt overjoyed to after years of reminding himself that he would achieve something significant in the sport. He revealed that he has had to deal with haters who have been calling him a 'garbage heap.' He delivered this message through his social media page.
He said that he is happy to prove his critics wrong. He thanked his critics for giving him the motivation to improve as an athlete. However, he revealed that he was almost on the verge of walking away. He thanked the Almighty, the MVP camp and his family.
McDonald used to run for Garvey Maceo. In 2016, he suffered from serious back injuries that were caused by a motor vehicle accident. This was a major setback and it almost threatened end his career.
McDonald clocked 45.56 seconds in the recent JAAA National Championships. He finished behind Sean Bailey.
In his next race, he finished in second place for a then season's best time of 44.83 seconds. This one happened at the Meeting Sport e Solidarieta Lignano.
About Author