Reggae Boyz Qualify For Quarter Final After Thrashing St. Kitts And Nevis 5-0
2 min read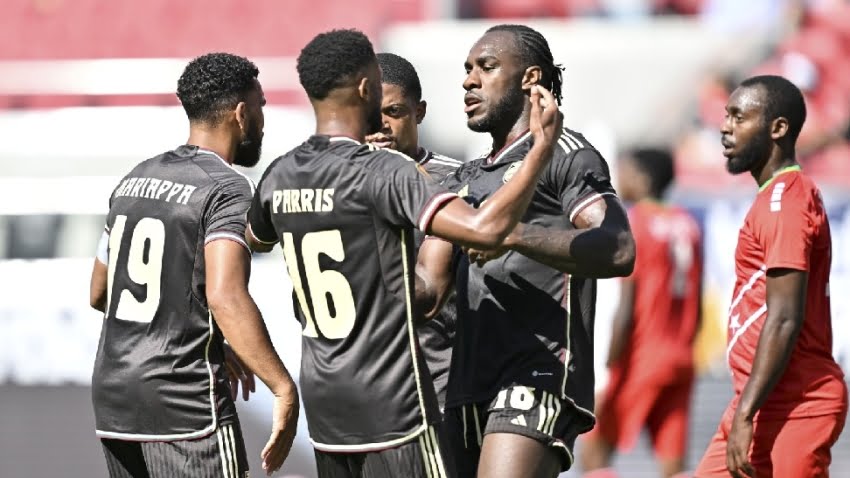 Coach Heimir Hallgrimsson has been has taking a policy of taking it 'one game at a time.'
The Reggae Boyz booked a spot in the quarter final of the Gold Cup after smashing St. Kitts and Nevis 5-0 in a win.
The Jamaicans got their first goal through an own goal that was deflected in by Julani Archibald. Leon Bailey crossed in a dangerous ball that was struck by Kaheem Parris. This shot caused chaos in the box and it forced the St Kitts goalkeeper to conceded an own goal.
The second goal came in the 45th minute when Jon Russell made a run into the box. Then he proceeded to produce a clinical finish that left the goalkeeper stranded.
Jamaica continued with their dominance in the second half. They were dominating the possession and were even creating more goal-scoring opportunities. The first second second half goal came from Di'Shon Bernard in the 49th minute. He twisted and turned in the box before shooting an unstoppable shot.
Daniel Johnson popped up with another goal in the 72nd minute. He pounced on a loose ball that came from the St Kitts goal keeper.
The final goal was scored by Cory Burke in the 74th minute. He finished off a chance that was created by Shamar Nicholson.
This win means that the Boyz have finished second in their group. They have a record of 2wins, 1 draw and 0 losses.
Coach Heimir Hallgrimsson has been has taking a policy of taking it 'one game at a time.' He said that he has instructed his team not to be over-excited by the results. He believes that they can enjoy a deep run in the tournament if they remain level-headed.
About Author