Reggae Boyz Set to Face Guatemala: Gold Cup Quarter-Finals Clash
3 min read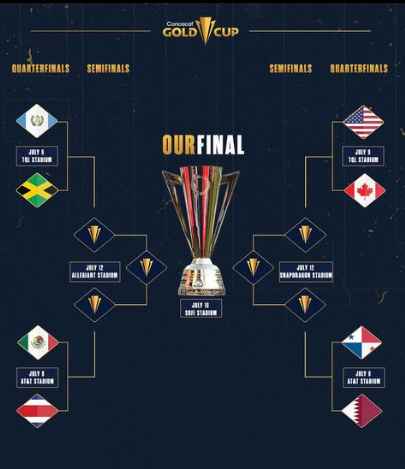 Clash of Titans: Jamaica vs Guatemala – Gold Cup Quarter-Finals Preview
The Jamaica Reggae Boyz have secured their spot in the Quarter-Finals of the CONCACAF Gold Cup 2023 after an impressive group stage performance. With a resounding 5-0 victory over St. Kitts and Nevis, the Reggae Boyz not only claimed a dominant win but also achieved their largest-ever victory at a Gold Cup tournament. The team's attacking prowess was on full display, with Leon Bailey leading the charge and making a significant impact throughout the match.
In addition to Bailey's outstanding performance, the Reggae Boyz witnessed Jonathon Russell and DiShon Bernard scoring their first international goals for Jamaica. The team's depth and talent were further highlighted as Daniel Johnson and Corey Burke also found the back of the net. With a total of 10 goals scored in the group stages, the Reggae Boyz now hold the record for the most goals ever scored by a Jamaican team in CONCACAF Gold Cup group stage history.
CONCACAF Gold Cup 2023 Knockout Stages
As the journey continues, the focus now shifts to the highly anticipated Quarter-Finals clash against Guatemala. Scheduled to take place on Sunday, July 9th, 2023, at the TQL Stadium in Cincinnati, Ohio, this match promises to be a thrilling encounter. Both teams will be vying for a spot in the semi-finals, and the Reggae Boyz will be eager to continue their winning momentum.
While specific head-to-head statistics between Jamaica and Guatemala in the Gold Cup are not available, both teams have a rich history in the tournament. Jamaica, known for their attacking prowess and solid defensive play, will look to capitalize on their strengths against a determined Guatemalan side. The Reggae Boyz will need to maintain their focus, discipline, and precision to overcome any challenges posed by their opponents.
Jamaica's confidence will be bolstered by their exceptional form in the group stages, and they will undoubtedly draw upon the talents of key players like Leon Bailey to spearhead their attacking efforts. The Reggae Boyz will rely on their cohesive teamwork, strategic game plan, and relentless determination to secure victory and advance to the semi-finals.
As fans eagerly await this Quarter-Finals showdown, the entire Jamaican nation will rally behind their team, showing unwavering support and pride. For comprehensive coverage and in-depth analysis of the CONCACAF Gold Cup, be sure to visit allsportsjamaica.com, where you can stay updated on all the latest news, highlights, and exclusive insights.
Get ready for an electrifying match as the Reggae Boyz aim to continue their remarkable journey in the CONCACAF Gold Cup. The stage is set, and Jamaica versus Guatemala promises to be a clash of fierce competition, skill, and determination. Stay tuned for an unforgettable Quarter-Finals encounter that will keep fans on the edge of their seats.
About Author