"Reggae Boyz Unveil Squad for CONCACAF Gold Cup: Dujuan "Whisper" Richards and Leon Bailey Included"
2 min read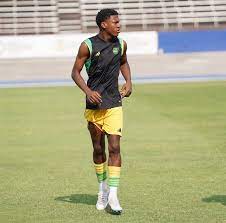 "Reggae Boyz Squad Unveiled for CONCACAF Gold Cup: Dujuan "Whisper" Richards and Leon Bailey Lead the Charge"
The Jamaica National Reggae Boyz have announced their squad for the upcoming CONCACAF Gold Cup, and there are some exciting additions that will surely delight Jamaican football fans. In a much-anticipated decision, both Dujuan "Whisper" Richards and Leon Bailey have been called up to represent their country in the prestigious tournament, which kicks off on June 24, 2023.
Richards, the 17-year-old prodigy from the Phoenix Academy, has already made waves in the football world with his recent pre-contract signing with Chelsea in the English Premier League. His inclusion in the Reggae Boyz squad comes as no surprise, as his skill, speed, and composure on the field have caught the attention of coaches and fans alike.
Joining Richards is the seasoned and talented Leon Bailey, who currently plies his trade at Aston Villa in the Premier League. Despite battling injuries throughout the season, Bailey has shown his class and ability to influence games with his explosive style of play. His inclusion in the squad will provide invaluable experience and leadership to the younger players.
The Reggae Boyz, under the guidance of coach Heimir Hallgrimsson, will prepare for the tournament with a training camp in Austria. This camp will be crucial in building team chemistry, fine-tuning tactics, and ensuring that all players are physically and mentally prepared for the challenges ahead.
While Richards and Bailey are the first names to be announced, the full squad will be unveiled in due course. Jamaican fans eagerly anticipate seeing which other talented players will join the ranks of the Reggae Boyz, as they aim to make a strong impression on the international stage.
The CONCACAF Gold Cup is a highly competitive tournament that brings together the best teams from North America, Central America, and the Caribbean. With defending champions USA and formidable opponents like Mexico, Costa Rica, and Honduras in the mix, the Reggae Boyz will face a tough challenge. However, with the mix of experienced players and promising young talents like Richards, Jamaica has the potential to make a deep run in the tournament.
The inclusion of Richards and Bailey in the Gold Cup squad highlights the commitment of the Reggae Boyz to building for the future. Their presence will not only provide a boost to the team's attacking prowess but also inspire other young players across Jamaica to strive for excellence in the sport.
As the countdown to the Gold Cup begins, allsportsjamaica.com will provide extensive coverage of the Reggae Boyz's preparations, including exclusive interviews, training updates, and analysis. Jamaican football fans can look forward to an exhilarating tournament as the Reggae Boyz aim to make their mark on the CONCACAF stage once again.
About Author