Reggae Girls Beat Mexico 1-0 in Concacaf Women's Championship
2 min read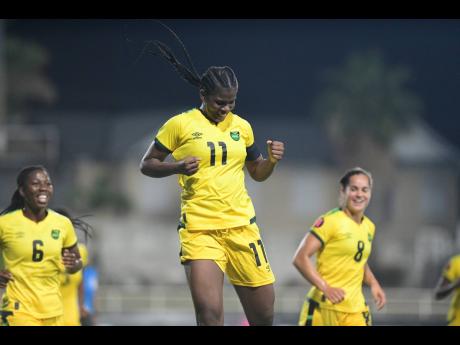 Man City Striker Khadija Shaw Scored the Only Goal
Jamaica took a big first step in their bid to qualify for back-to-back Women's World Cups by defeating Mexico 1-0 in their Group A opener of the Concacaf Women's Championship in Monterrey, Mexico.
Jamaica's all-time top scorer Khadija 'Bunny' Shaw nodded home the all-important winner in the 8th minute from a well weighted free kick from Deneisha Blackwood. The Manchester City forward has been enjoying a successful season which has seen him score many goals for her club and country.
Hosts Mexico were stunned by the Khadija Shaw goal, leaving them with a mountain to climb if they are qualify for the semi-finals of the CWC and an automatic 2023 World Cup spot.
Mexico could have equalized on 15 minutes but a Diana Ordonez header hit the post. Jamaican keeper Rebecca Spencer kept the Mexicans at bay on 28 minutes with a crucial save, pushing a Carolina Jaramillo long shot away for a corner.
Luck wasn't going Mexico's way in front of their passionate fans. In the 35th minute a handball by Casandra Montero was confirmed by the VAR review and the referee pointed to the spot.
It was a chance for Jamaica to put distance between themselves and the Mexicans. Havana Solaun, who has been out of the Jamaican team over the past couple of year, stepped up only to blast the ball over the bar.
Mexico had started the game as marginal favorites, but it was Jamaica who always looked most likely to win. More chances came in the second half, with the closest denying Shaw a second goal when she hit the post.
While Mexico had 58% of possessions, it was always the Jamaicans who looked to have the most threat up front.
Mexico will now have to beat Haiti in their next match on Thursday before getting something from favorites the USA in their final group game, if they are to progress.
Jamaica face the US next and finish group play with Haiti in what could be a winner takes all decider if the Haitians beat Mexico.
About Author