We Can Learn From All-Island Defeat, Says St Catherine Netball Coach
2 min read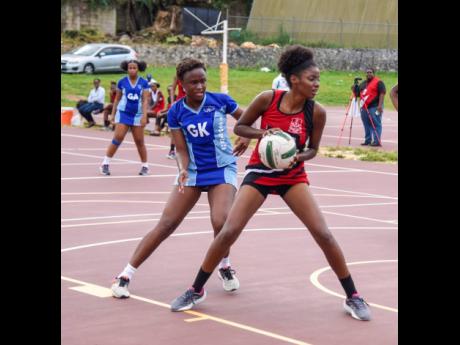 St Catherine's goal-shooter, Kellian Hunter, scored 22 goals out of 24 trials while Kayla Wright converted three from 5 attempts
Despite things not going as Phyllis Thompson expected, the St Catherine High School netball coach revealed that she was in no way disappointed with her team's effort at the 2022 ISSA All-Island Championship.
Last Friday, the urban champions St Catherine lost terribly in a 25-41 defeat against rural champions Glenmuir in the game that went down at Manchester High School.
St Catherine's goal-shooter, Kellian Hunter, scored 22 goals out of 24 trials while Kayla Wright converted three from 5 attempts. As for Glenmuir, Shania Martin topped the scoreboard with 29 goals from 36 attempts, Nickesha Powell scored 8 out of 11 attempts, Tari Mendez converted 3 out of 3 attempts and Makala Richards came in with 1 goal out of 2 attempts.
St Catherine faced quite the challenge from the start of the game as they were not only dominated in ball possession but also several unforced mistakes made them trail backwards with 5-10 and 10-24 in the first two quarters. The team never recovered from this early attack as the first quarter saw them lose with 16-36 before ending the game 16 points behind winners Glenmuir.
Thompson commented that the urban champions' efforts were still outstanding. St Catherine had secured a 26-23 victory over Gaynstead High in the Urban Area Under-19 tournament's final to claim the urban title in the match that took place on December 8th at the National Indoor Sports Centre (NISC) in Kingston.
About Author