Dairy Industries Promises To Continue Supporting Waterhouse FC
2 min read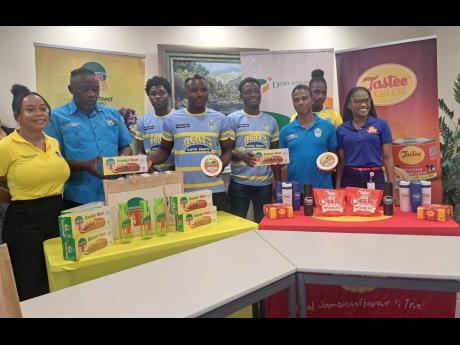 The company promised to offer support through good and bad times. They recently offered food donations
Dairy Industries and Tastes Cheese have announced that they will continue to support Waterhouse Football Club. This announcement was made by Antoneil Dinnall, the customer service specialist of the company.
Dinnall promised to offer support through good and bad times. She made this statement during their yearly Easter donation of buns. Waterhouse and Dairy Industries have had a healthy relationship for many years.
She told the gathering that they are happy that Waterhouse went into a partnership with them. Dairy Industries is looking forward to a bright future with bigger and better things.
Waterhouse players, team manager Keith Salesman and coach Marcel Gayle showed up to accept the yearly donation. Gayle revealed that this gesture helps in filling a big gap every year.
Gayle said that the food donation has come at the best time possible. He revealed that they will use this food in their feeding programme. Gayle said that there are many underprivileged kids who are hoping for gestures like this.
Gayle said that he was very grateful for this donations. He emphasized that Waterhouse is hoping to maintain a blossoming relationship with Dairy Industries.
Crystal Blackwood, the National Bakery Brand Manager said that he hopes that this food donations will help people in need.
Waterhouse have been successful in the last two seasons but they have struggled in the Jamaica Premier League this season. However, they are currently sixth after showing improvements in the last month.
About Author