Jamaica Lacrosse Team Edges Out Italy in Intense Playoff Battle
2 min read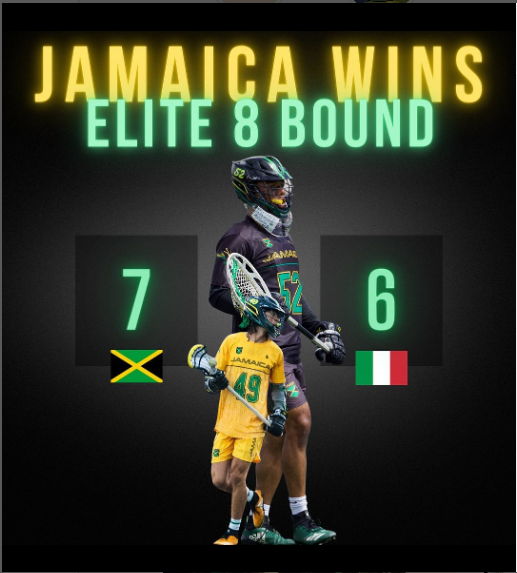 Jamaica Lacrosse Team: Hard-Fought Victory over Italy in Playoff Thriller
Introduction
In a thrilling Round 1 playoff match, the Jamaica Lacrosse Team faced a formidable challenge against Italy. The game proved to be a hard-fought battle, with both teams leaving everything on the field. In the end, Jamaica emerged victorious with a narrow 7-6 win, securing their spot in the Elite 8. Let's delve into the gripping details of this intense lacrosse showdown and celebrate the standout performances that propelled Jamaica to success.
A Fierce Contest
The matchup between Jamaica and Italy showcased the high-stakes nature of playoff lacrosse. Right from the opening whistle, both teams exhibited a relentless determination to secure victory. Despite the tough competition, the Jamaican team displayed exceptional composure and skill throughout the game, never trailing their opponents.
Khairi Sears Shines
One of the standout performers for Jamaica was Khairi Sears, who showcased his scoring prowess with a remarkable hattrick. Sears's relentless offensive efforts proved to be a game-changer, providing Jamaica with crucial goals when they needed them the most. His ability to find the back of the net under pressure played a significant role in Jamaica's hard-earned victory.
Contributions from Marcus Minichiello and Stone Evans: Joining Sears in the offensive showcase, Marcus Minichiello delivered a stellar performance, contributing two important goals for Jamaica. His precise shooting and strategic positioning added another layer of firepower to the team's attack. Additionally, Stone Evans displayed his versatility and skill by netting two crucial goals, providing the necessary support to secure the victory.
A Triumph of Team Effort
While individual performances stood out, the victory belonged to the collective effort of the Jamaican team. Their unwavering determination, defensive resilience, and cohesive teamwork were key factors in overcoming the challenges posed by Italy. From the goalkeeper to the defensive line and the midfielders, every player played a vital role in securing the hard-fought win and advancing to the Elite 8.
Looking Ahead
With their impressive victory against Italy, the Jamaica Lacrosse Team now sets their sights on the Elite 8 stage of the playoffs. Their resilient performance and ability to triumph under pressure have established them as a force to be reckoned with in the tournament. As they continue their journey, Jamaica's lacrosse warriors are determined to go further and etch their names in the annals of lacrosse history.
Conclusion
The Jamaica Lacrosse Team's victory against Italy in the Round 1 playoffs was a testament to their unwavering spirit, skill, and determination. With Khairi Sears leading the charge and contributions from Marcus Minichiello and Stone Evans, Jamaica emerged triumphant in a closely contested battle. As they advance to the Elite 8, the team carries the hopes of a nation on their shoulders, ready to face the next challenge in their pursuit of lacrosse glory.
About Author