Jamaica Dominates New Zealand in a Thrilling Lacrosse Showdown
3 min read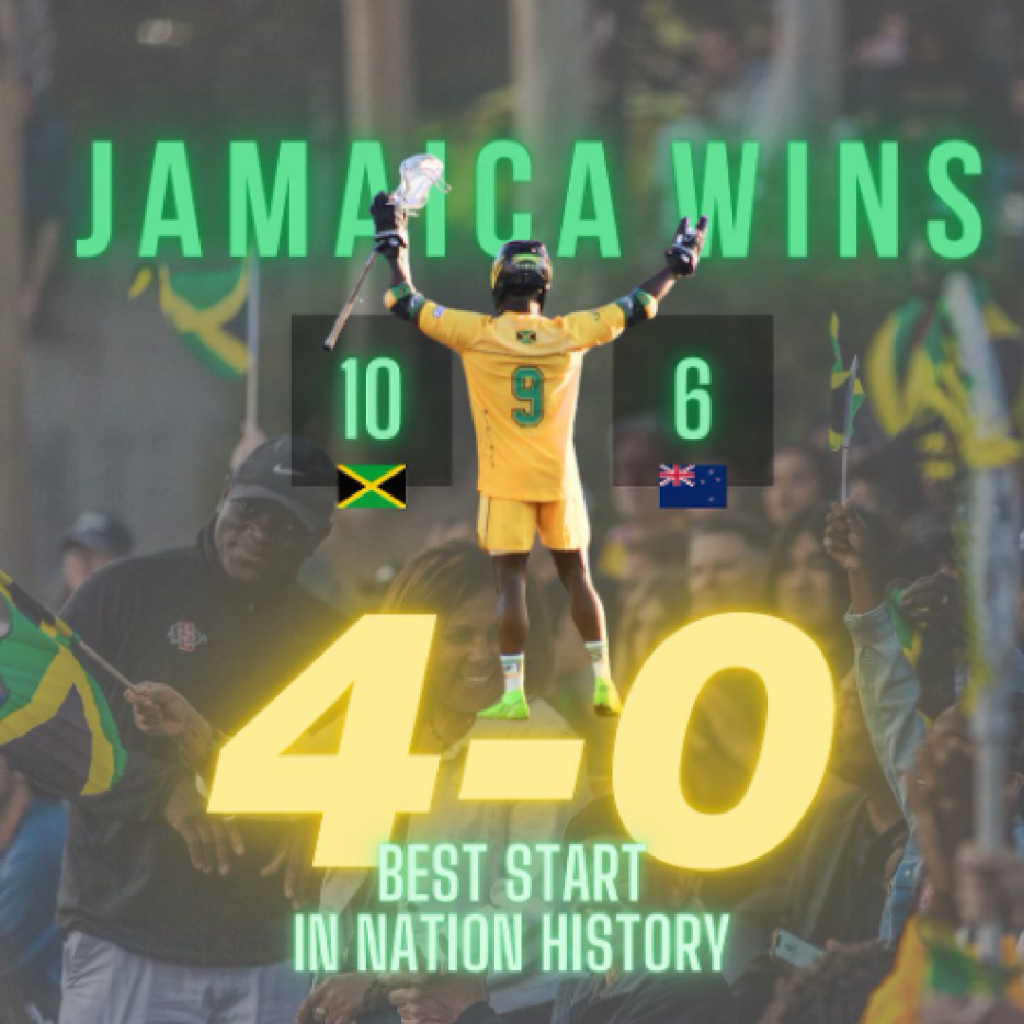 Jamaica Crushes New Zealand in Sensational Lacrosse Showdown
Introduction
In an intense lacrosse battle at the 2023 World Lacrosse Men's Championship, the Jamaica Lacrosse Team showcased their dominance against New Zealand. With an impressive display of skill and teamwork, Jamaica emerged victorious with a final score of 10-6. Let's dive into the exhilarating match that unfolded at SDSU Morgan Stanley Field, leaving fans on the edge of their seats.
Early Exchanges
New Zealand made a strong start, taking the lead early in the first period with a goal from Cody Clark. However, Jamaica quickly retaliated, launching a formidable offensive onslaught. They found the back of the net three times in rapid succession, courtesy of goals by Josh McLaughlin, Marcus Minichiello (assisted by Stone Evans), and Aj Knoxx (assisted by Khairi Sears). As the first period concluded, Jamaica held a commanding 3-1 lead.
Continued Dominance
Jamaica carried their momentum into the second period, continuing their scoring spree. AJ Knoxx, assisted by Stone Evans, extended Jamaica's lead, followed by another goal by Marcus Minichiello, securing his second of the game. New Zealand managed to find the back of the net for the second time through Andrew Clayton, but Jamaica remained firmly in control. The second period concluded with Jamaica leading 5-2.
Firing on All Cylinders
Entering the third period, Jamaica showed no signs of slowing down. They unleashed a relentless offensive assault, with goals from Owen Stephenson, Khairi Sears, Stone Evans, and Danielo Parkinson. Their dominant performance left New Zealand struggling to keep pace. The third period ended with Jamaica firmly in command, boasting a commanding 9-2 lead.
Late New Zealand Surge
As the fourth period commenced, Jamaica added another goal to their tally, courtesy of Josh McLaughlin, with an assist from Khairi Stephenson. However, New Zealand mounted a spirited comeback, scoring four unanswered goals. Despite their valiant efforts, time was not on their side, and the match concluded with Jamaica securing a hard-fought 10-6 victory.
Jamaica's Stellar Performance
Jamaica's triumph against New Zealand showcased their remarkable skills, strategic gameplay, and exceptional teamwork. Their offensive prowess was on full display throughout the match, with multiple players contributing to the scoring. Equally impressive was their defensive discipline, limiting New Zealand's opportunities to stage a complete comeback.
A Step Closer to Glory
With each victory, Jamaica's lacrosse team moves one step closer to their ultimate goal of winning the 2023 World Lacrosse Men's Championship. Their commanding performance against New Zealand further solidifies their status as a formidable force in international lacrosse.
Conclusion
The clash between Jamaica and New Zealand in the 2023 World Lacrosse Men's Championship was a thrilling spectacle, showcasing the skill, determination, and competitive spirit of both teams. Jamaica's dominant display throughout the match, coupled with New Zealand's valiant comeback attempt, made for an exciting contest. As the championship continues, Jamaica's stellar performance serves as a testament to their determination to etch their names in lacrosse history.
About Author