JTTPA Invitational Won by Nigerian Akindele
2 min read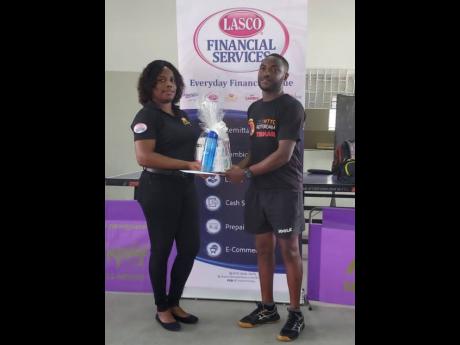 Akindele dropped two sets in 5 games to emerge victorius at the tournament that was sponsored by LASCO Financial Services
Nigerian athlete Adeniyi Akindele seemed to be comfortable when he participated in the Kingston and St Andrew Table Tennis Association's Men's B event in October this year. He did not drop a set throughout the run. On Sunday November 20th, the Nigerian was crowned the winner of the Jamaica Table Tennis Players Association (JTTPA) Top 10 Invitational. This was at the Pembroke Hall Community Centre.
Akindele dropped two sets in 5 games to emerge victorious at the tournament that was sponsored by LASCO Financial Services which has recently launched Gold Debit Card. Lefthanded Rudolph Sinclair, member of the Pembroke Hall Club, stretched Akindele to 4 sets, 11-5, 5-11, 11-5 and 15-13. Rodger McKenzie also stretched him to 4 sets 11-9, 9-11, 11-4 and 11-3.
Despite him winning, he described Sinclair's and McKenzie's skills as extremely impressive, both 3-1. Nonetheless, he found it easy while facing Sean Nesbeth, Brian Blake and Marlon Alberts in straight sets.
Sinclair won the bronze medal in the 2018 Caribbean Championship. He beat McKenzie to be ranked second, 11-7, 9-11, 11-7, 9-11 and 11-4. McKenzie founded the tournament which is JTTPA's inspiration. This helped in bringing back tournament table tennis to a region that once thrived in the sport. Yvonne Foster, seven-time national women's champion, belonged to the club during its days of great prosperity and productivity.
McKenzie explained that the JTTPA is an independent group for layers and is in no way affiliated to the Jamaica Table Tennis Association (JTTA). The Financial marketing manager for LASCO, Danielle Drysdale, further explained that the company will be involved in reestablishing students in the programme that had disengaged due to the pandemic so as to improve table tennis.
About Author