President's Trophy TT Topped by Phillips and Lewis
2 min read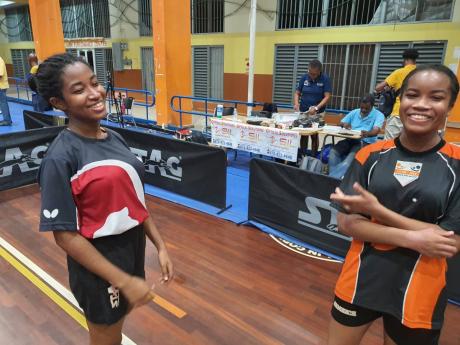 The 28-year-old Phillips defeated Rudolph Sinclair to be crowned the men's open singles winner while Lewis defeated her sister Gianna twice
Over the weekend, the Jamaica Table Tennis Association President's Trophy tournament that went down in Spanish town at the G.C. Foster College for Physical Education and Sport saw top seeds Tsenaye Lewis and Mark Phillips dominating the event.
The 28-year-old Phillips defeated Rudolph Sinclair to be crowned the men's open singles winner while Lewis defeated her sister Gianna twice. Phillips familiarized himself with G.C. Foster's playing conditions after his 4-0 victory over Sean Wallace in his semifinal game.
Sinclair was swift in the final where he won 11-1 in the first set five minutes after a thriller of seven sets against Adeniyi Akindele of Nigeria.
Set three saw a turning point after 2018 Caribbean over-45 bronze winner Sinclair rose from 6-9 to 10-10 but was outplayed by Phillips.
Sinclair was benignant as he commented on Phillips' play. He said that Phillips is not only young and very talented but also a quick player. He further admitted that he could not match Phillips' game on this particular day.
Lewis won against her sister Gianna twice. In the women's open singles, she won with a 11-8, 12-10, 11-6, 11-8 margin. They later met in the girls' under-19 final where she won with 3-1 score. Athletic counter looping rallies decorated both matches.
Jamaican-based Nigerian Akidenle thrashed Joel Butler of Kingston College 4-0 in the men's B final. He was happy with how he played on that day despite losing to Sinclair. In his men's open quarter-final, he eliminated Alphanso Morris who is second seeded 4-0.
Ajani Spencer was also a double winner. He played against Anthony Bird, his Caribbean mini and pre-cadet teammate, and won the under-11 title. He later beat Nathan Douglas to be crowned the under-13 final winner.
About Author